Rosario Dawson revealed the adorable activity she does with her boyfriend, and #goals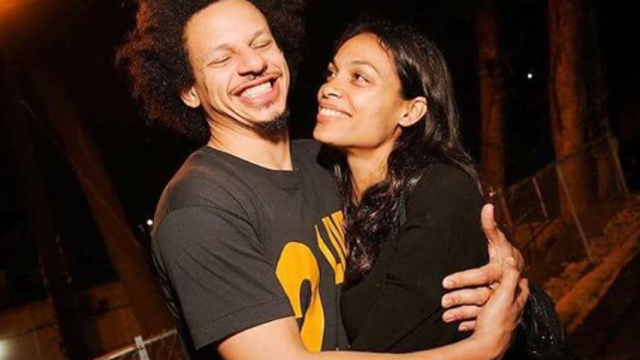 Stunning and insanely talented Rosario Dawson's relationship with comedian Eric Andre has befuddled the masses over the past few months, to the point where the couple had to prove their relationship status with a tongue-touching picture! That's because Andre is SUCH a prankster, and the idea that he's with one of Hollywood's most gorgeous and talented (and politically active) stars could easily be another of his jokes.
The joke's on us, though, because the fiercely feminist actress told Stephen Colbert that her relationship with Andre is incredibly strong, and we couldn't be happier for her. During her appearance on The Late Show with Stephen Colbert this week, she stated that Andre has taught her healthy habits — including journaling!
Watch Rosario gush about her boyfriend, Eric Andre (and Prince, too):
https://www.youtube.com/watch?v=neF4YpFQNvw?feature=oembed
First, she told Colbert that when she was recovering from a ruptured cyst on her ovary (ouch), Andre showed her just how much he cared for her. "He took care of me in an adult diaper. That's love," she said. That IS love.
She also told a story about the infamous tongue-touching photo.
https://www.instagram.com/p/BQgdbFrhWJT
According to Dawson, after Chance the Rapper questioned the couple's relationship, Andre got defensive and posted the picture to his Instagram. Rosario responded by saying, "You're such a millennial, man, you don't post the tongue pictures! I'm gonna be 38 next month, come on!"
Consider this couple officially one of our favorite celeb pairs
Colbert then morbidly mentioned that women out-live men, stating, "men don't live as long," and Rosario rebutted with, "He meditates though!" Turns out, Andre has really taken care of Dawson and her health. She went on to say, "He's got me meditating and journaling and doing all of this amazing stuff. He's actually quite healthy, you would never know."
Considering that he's one of Hollywood's biggest goofballs, that's quite a surprise!
It sounds like their relationship is very healthy and sweet. We'd also love to get our hands on their journals because the two of them probably write the funniest things together.