Rosario Dawson Posted a Heartfelt Instagram In Honor of Cory Booker's Win
Dawson got to vote for her man (and marijuana) as a new New Jersey resident.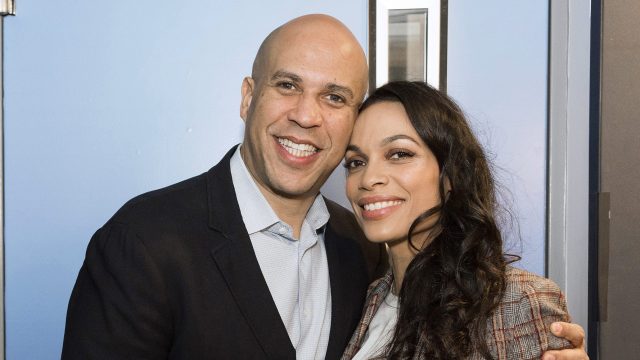 Rosario Dawson is openly sharing her pride for her partner Cory Booker's reelection as a New Jersey senator. Booker has been serving as a junior U.S. senator in the state since 2013 and was officially reelected on Tuesday night. Following the victory, Dawson congratulated Booker with a heartfelt Instagram post on Wednesday, November 4th.
"So proud of and grateful for you my love," the actress, who has been dating Booker since October 2018, wrote alongside a photo of the two of them. "I got to vote for you here in New Jersey and am so glad that you overwhelmingly and rightfully won your seat again. To know your leadership will continue to guide us with love, brilliance, patience, grace and effectiveness is the kind of representation and hope we need."
Dawson continued with a forward-focused mindset: We saw record turnout and need to keep building so that we can win both houses and make real change! She tagged the post with #EyeOnThePrize #MIDTERMS and #2022IsAroundTheCorner.
On Tuesday, Booker thanked his voters in an Instagram post of his own. "New Jersey, I'm once again humbled by the faith you've placed in me," he wrote. "Thank you for standing with me and allowing me the honor of representing our great state in Washington. Our work is far from finished."
Dawson, who recently moved to New Jersey and became a resident, also showed her support by commenting on Booker's post. Congratulations my love. I'm so grateful for your leadership and your team. We need you, she wrote.
While Dawson seems genuinely proud of the reelected senator, Booker joked on Jimmy Kimmel Live on Wednesday night that she might have been more excited about supporting something else on the ballot. "I don't know what she was more excited to do: vote for me as a new New Jersey resident or vote for marijuana," Booker told Fallon virtually. "I don't know what's more popular." (New Jersey voted to legalize recreational marijuana on Election Day.)
Dawson admitted that she was sad not to be voting in California this year, since there were "such incredible and important propositions and measures to vote for," but that good things came with voting in New Jersey, too. "I got to vote for my man and I got to vote for marijuana," she said.