We spoke to a veteran Hollywood makeup artist on the products she must always have on set, and her skin care philosophy
Behind every visually stunning film, there is a skilled makeup artist. The process of translating a character in a script into an on-screen look is both impressive and fascinating because there is such a balance of imagination and discipline required.
While pondering this theme, HelloGiggles spoke with the Hollywood makeup artist Rosalina Da Silva, who has worked on Watchmen, Underworld Awakening, and X-Men: Apocalypse. Most recently, Da Silva was the makeup department head for Fifty Shades Darker. She gave HelloGiggles the juice on how she got started in the business in the first place, as well as some of her favorite makeup and skin care products to use on set.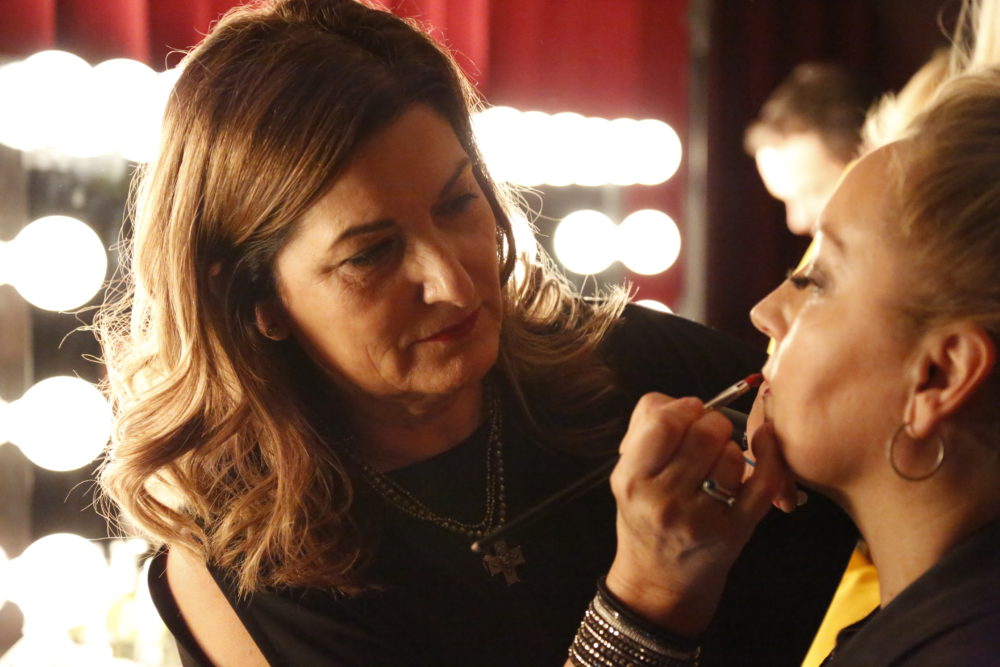 HelloGiggles: How did you first start out as a makeup artist?
Rosalina Da Silva: Since I can remember, I've always had a passion for beauty, skin care, and makeup. I've been in this industry for over 30 years. I started in Australia — went to school for a full year and then just joined the freelance world. Like any other profession, it's hard to get in. You just have to be persistent and work very hard. There was no magic formula. One day you get the right break and hopefully, you'll be ready for it.
HG: What was the first movie you did makeup for?
RDS: My very first movie, well, I'm not sure you would have heard of it, but my very first big one that I worked on was Mad Max: Beyond Thunderdome.
HG: What are your top favorite products you use on set?
RDS: There are many makeup products that we can't live without. However, my philosophy is that great skin is the best makeup everyone can wear. My very first consultation before we even start on makeup and character development is skin care and skin maintenance throughout the show. I'm very picky at the end of each day when I insist that they have their makeup properly removed by us. The products used for Fifty Shades Darker included Eminence organic skin care, Sisley, Dr.Lancer, and Repêchage. Having a good makeup primer is very important. Like MAC prep+prime, Laura Mercier foundation primer, and MAC prep+prime fix +, a setting spray.
https://www.instagram.com/p/BKc75nEDOb4
HG: What inspired your makeup looks for Anastasia in the Fifty Shades Darker movie?
RDS: Anastasia's look was inspired by the movies of the '40s and '50s —  keeping it somehow modern, accessible, and in keeping with the feeling of Fifty Shades of Grey, allowing room for character development throughout the two movies.
HG: Does Christian get the makeup treatment, if so, what do you put on him?
RDS: Christian is the perfect example of a daily skin care routine. He's very handsome with beautiful skin. My focus was to keep it looking great with very minimal makeup. Over time, with long days on a long shoot as Fifty Shades Darker was, it's so important that there are no signs of tiredness. Mini facials are the trick to keeping it nourished and fresh. As far makeup, I used a mixture of a daily self-tanner gel and moisturizer.
HG: Did you hope the looks in the Fifty Shades Darker would inspire trends?
RDS: I think Anastasia's looks have already inspired many women. There's been lots of chatting on social media about Anastasia's lips and lip colors. She had a natural lip color look for most of the office scenes — Arabian nKights by Ilia —  beautiful reds like Feels so Grand, a MAC liquid lipstick. They gave her a natural, classic, and polished look that most women can achieve, starting with the perfect skin care regime.
HG: What are some of your upcoming projects?
RDS: The next project I'm working on now is a remake of the 1980s movie Overboard with Goldie Hawn and Kurt Russell. This remake is with Anna Faris and Eugenio Derbez. It's also called Overboard.
You can check out Da Silva's work in Fifty Shades Darker, which is now available on DVD and Blu-ray.