Rooney Mara rocked this eco-conscious H&M gown at the Vanity Fair Oscar Party
There are some brands that we expect at Oscar parties: Chanel, Dior, Givenchy, Valentino. But leave it to rebellious Rooney Mara to wear a sustainable H&M dress to the 2017 Vanity Fair Oscar Party and still look glamourous. The actress wore an exclusive, custom-made H&M gown to the party, choosing an off-white recycled pollyester piece with pleats and sculptural accents. The dress is from H&M's Conscious collection, which aims to empower buyers by giving them ethical and sustainable options in clothing. With the goals of providing fashion for conscious customers, being ethical and recycling, among others, this is the sort of initiative we love seeing fast fashion brands shift towards. And more than that, we love celebrities who use their platform to spread this message, especially when that actress is Rooney Mara.
With such a neutral toned dress, we love that Rooney chose a dark, berry stained lip to finish off the look. With her dark hair slicked back and thick, bold brows,  Rooney looks put together and regal without overdoing it. And by pairing this look with a simple black, platform sandal, the dress gets all the attention. We love that Rooney isn't afraid to take risks, or wear a non-designer gown to one of the most talked about parties of the year. You can buy fashion after all, but you can't buy style. Thankfully, Rooney won't have to worry about that.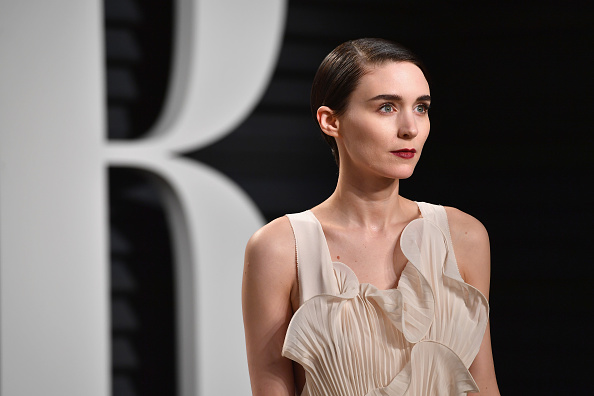 With a deep part and bold brows, and an eco-conscious gown, Rooney makes a sartorial and humanitarian statement all in one.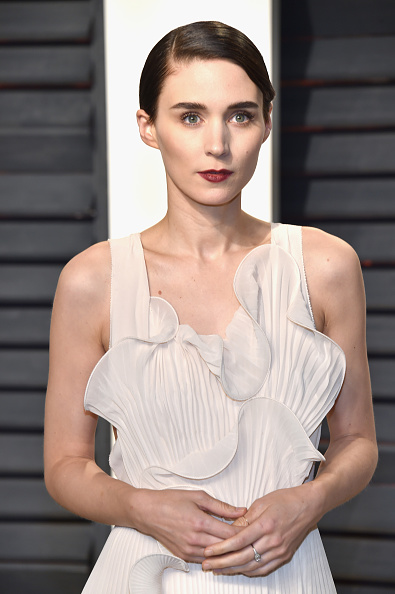 Rooney also shows off the perfect amount of highlight, and paired with her seashell inspired dress, she looks radiant.