Guys, Ron Weasley met Ron Weasley last night and it's all our hearts ever wanted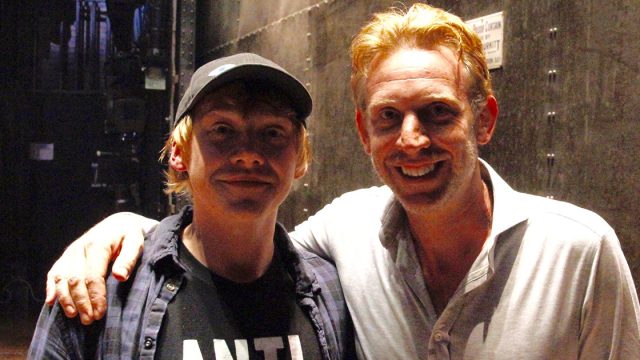 We're obsessing over Harry Potter and the Cursed Child so much. We've read the script, like, 5 times since it came out, we've learned LOADS about the new actors playing Harry Potter, Ron Weasley, and Hermione Granger, and we TOTALLY ship Albus and Scorpius.
While we dream about heading to London to see The Cursed Child in all its glory, we know that more than likely we're going to have to either wait until the show hits Broadway or we learn to apparate. Either that, or someone could make us a Portkey.
However, it seems that there's been some magic at play (we're assuming a time turner was used, but cannot confirm) as something brilliant just happend.
The two Rons met last night and it's the best thing EVER.
O-M-G! Ron and Ron together makes our heart SWELL.
Yep, Rupert Grint, who played Ron Weasley in the Harry Potter film series, met with Paul Thornley, who plays Ron Weasley in the play.
This isn't the first time that the two worlds of Harry Potter have met. Just last month, the two Hermiones met and it was a convergence of the ages.
Ron (i.e. Rupert) even took a huge picture with the rest of the cast and it's just incredible.
We're now 100% speculating about what the OG Ron made of new Ron; what did he think of *that* moment between him and Hermione in the play (if you've read or seen it, you'll know the one), and does he also think that Albus and Scorpius should, like, totally be together?
TOO MANY QUESTIONS!