14 romantic literary passages that are perfect for wedding vows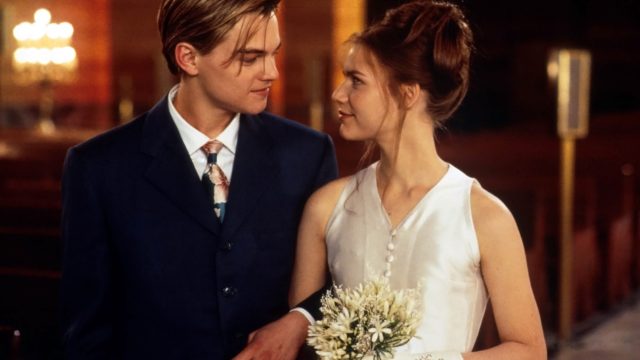 When two people tie the knot, it's a beautiful thing. When two word nerds tie the knot, it's a whole different flavor of beautiful, especially if they decide to incorporate literary-inspired wedding readings into their ceremony.
There are so many great things about this — one of which is that you don't have to write that part of the ceremony yourself! But on a more heartfelt note, there are countless beautiful words already crafted within the pages of stories old and new that put Hallmark cards to shame.
And as someone who used multiple literary passages in her own 2014 wedding ceremony (two of which, admittedly, are included in the following list!), this writer is all for letting your book-freak flag fly on what might be the most memorable day of your life. From Shakespeare to Seuss, the sky is the limit.
So if you're a literature lover who's getting married and scratching your head about meaningful content to use in your vows, keeping reading to explore some of our favorite romantic quotes and passages from classic and modern works alike.
1On finding your other half: Wuthering Heights, by Emily Brontë
"He's more myself than I am. Whatever our souls are made of, his and mine are the same…my great thought in living is himself. If all else perished, and he remained, I should still continue to be; and if all else remained, and he were annihilated, the universe would turn to a mighty stranger. I should not seem a part of it."
2On becoming a better person: The Princess Bride, by William Goldman
"Do I love you? My God, if your love were a grain of sand, mine would be a universe of beaches…I have stayed these years in my hovel because of you. I have taught myself languages because of you. I have made my body strong because I thought you might be pleased by a strong body. I have lived my life with only the prayer that some sudden dawn you might glance in my direction. I have not known a moment in years when the sight of you did not send my heart careening against my rib cage. I have not known a night when your visage did not accompany me to sleep. There has not been a morning when you did not flutter behind my waking eyelids…"
"I love you. Okay? Want it louder? I love you. Spell it out, should I? I ell-oh-vee-ee why-oh-you. Want it backward? You love I."
3On building an authentic foundation: Captain Corelli's Mandolin, by Louis de Bernières
"Love is a temporary madness; it erupts like volcanoes and then subsides. And when it subsides, you have to make a decision: You have to work out whether your roots have so entwined together that it is inconceivable that you should ever part. Because this is what love is. Love is not breathlessness, it is not excitement. It is not the promulgation of promises of eternal passion. That is just being 'in love,' which any fool can do. Love itself is what is left over when being 'in love' has burned away, and this is both an art and a fortunate accident. Those who truly love have roots that grow toward each other underground, and when all the pretty blossoms have fallen from their branches, they find that they are one tree and not two."
4On bottomless devotion: Romeo and Juliet, by William Shakespeare
"My bounty is as boundless as the sea,
My love as deep; the more I give to thee,
The more I have, for both are infinite."
5On relishing the little things: The Picture of Dorian Gray, by Oscar Wilde
"Life is not governed by will or intention. Life is a question of nerves, and fibres, and slowly built-up cells in which thought hides itself and passion has its dreams. You may fancy yourself safe and think yourself strong. But a chance tone of color in a room or a morning sky, a particular perfume that you had once loved and that brings subtle memories with it, a line from a forgotten poem that you had come across again, a cadence from a piece of music that you had ceased to play — it is on things like these that our lives depend."
6On forever: Winnie the Pooh, by A.A Milne
"If ever there is tomorrow when we're not together…there is something you must always remember. You are braver than you believe, stronger than you seem, and smarter than you think. But the most important thing is, even if we're apart…I'll always be with you."
7On partnership: A Farewell to Arms, by Ernest Hemingway
"At night, there was the feeling that we had come home, feeling no longer alone, waking in the night to find the other one there, and not gone away; all other things were unreal. We slept when we were tired and if we woke the other one woke too so one was not alone. Often a man wishes to be alone and a woman wishes to be alone too and if they love each other they are jealous of that in each other, but I can truly say we never felt that. We could feel alone when we were together, alone against the others. We were never lonely and never afraid when we were together."
8On being your true, most honest self: The Velveteen Rabbit by Margery Williams
"You become. It takes a long time. That's why it doesn't happen often to people who break easily, or have sharp edges, or who have to be carefully kept. Generally, by the time you are real, most of your hair has been loved off, and your eyes drop out, and you get loose in the joints and very shabby. But these things don't matter at all, because once you are real you can't be ugly, except to people who don't understand."
9On everlasting passion: Les Misérables, by Victor Hugo
"Love participates of the soul itself. It is of the same nature. Like it, it is the divine spark; like it, it is incorruptible, indivisible, imperishable. It is a point of fire that exists within us, which is immortal and infinite, which nothing can confine, and which nothing can extinguish. We feel it burning even to the very marrow of our bones, and we see it beaming in the very depths of heaven…"
10On love at first sight: As You Like It, William Shakespeare
"No sooner met but they looked, no sooner looked but they loved, no sooner loved but they sighed, no sooner sighed but they asked one another the reason, no sooner knew the reason but they sought the remedy; and in these degrees have they made a pair of stairs to marriage."
11On the power of the spark: The Alchemist, by Paulo Coehlo
"When he looked into her eyes, he learned the most important part of the language that all the world spoke — the language that everyone on Earth was capable of understanding in their heart. It was love. Something older than humanity, more ancient than the desert. What the boy felt at that moment was that he was in the presence of the only woman in his life, and that, with no need for words, she recognized the same thing. Because when you know the language, it's easy to understand that someone in the world awaits you, whether it's in the middle of the desert or in some great city. And when two such people encounter each other, the past and the future become unimportant. There is only that moment, and the incredible certainty that everything under the sun has been written by one hand only. It is the hand that evokes love, and creates a twin soul for every person in the world. Without such love, one's dreams would have no meaning."
12On choice and deliberate action: The Harry Potter series, by J.K. Rowling
"It is impossible to manufacture or imitate love."
"It is our choices that show what we truly are, far more than our abilities."
"Do not pity the dead, Harry. Pity the living, and, above all, those who live without love."
"After all this time?" "Always."
13On coming together as one: Jane Eyre, by Charlotte Brontë
"I have for the first time found what I can truly love — I have found you. You are my sympathy — my better self — my good angel; I am bound to you with a strong attachment. I think you are good, gifted, lovely: a fervent, a solemn passion is conceived in my heart; it leans to you, draws you to my center and spring of life, wraps my existence about you — and, kindling in pure, powerful flame, fuses you and me in one."
14On fate and destiny: Doctor Zhivago, by Boris Pasternak
"Oh, what a love it was, utterly free, unique, like nothing else on earth! Their thoughts were like other people's songs."
"They loved each other, not driven by necessity, by the 'blaze of passion' often falsely ascribed to love. They loved each other because everything around them willed it, the trees and the clouds and the sky over their heads and the earth under their feet. Perhaps their surrounding world, the strangers they met in the street, the wide expanses they saw on their walks, the rooms in which they lived or met, took more delight in their love than they themselves did."