Rogue One writer says the film was in "terrible, terrible trouble" before reshoots, and this isn't awkward at all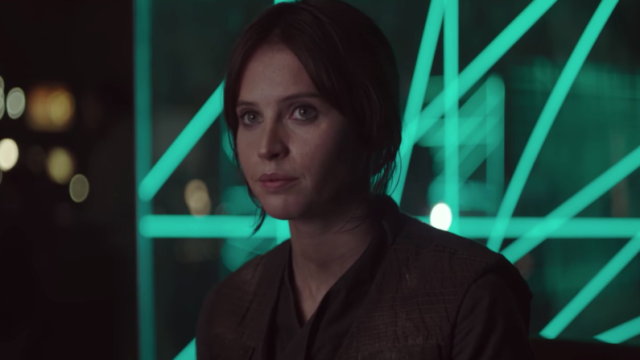 By now, we know Rogue One's production process involved a little more polishing than your typical movie. And by polishing, we mean relatively dramatic reimagining of scenes, extensive reshoots, and an entirely different ending than the one that was originally planned. While Rogue One's director and members of its cast have spoken out a bit about the changes that were made between the cameras first rolling and the movie hitting theaters, there was still an intergalactic air of mystery around the whole thing.
Well, we're finally getting some additional deets from the writer who was brought in to help clean Rogue One up — and he's not holding back. In an interview on the podcast The Moment with Brian Koppleman that went up this week, Tony Gilroy said the movie he was brought in to fix was "just in so much terrible, terrible trouble."
Gilroy, whose comments come in around the 45-minute mark, said he was brought in after the director's cut of the Star Wars standalone to clean things up, and, according to EW, write additional material, offer notes, and act as a second unit director supporting director Gareth Edwards on the reshoots. Most movies require some later tweaking, but this one famously went a few steps further. The story that ended up in theaters, with Jyn Erso (Felicity Jones) teaming up with the Rebel Alliance crew to steal the Death Star plans — and, ultimately, giving her life for the cause alongside her fellow rebels — took quite a bit of reshaping.
https://www.youtube.com/watch?v=frdj1zb9sMY?feature=oembed
The situation he initially walked into, Gilroy said, was "a mess":
"If you look at Rogue, all the difficulty with Rogue and all the confusion of it and all the smart people and all the mess, and in the end when you get in there, it's actually very, very simple to solve," Gilroy said on the podcast. "Because you sort of go, 'This is a movie where, folks, just look. Everyone is gonna die.' So it's a movie about sacrifice."
Even though the Rogue One characters not showing up in A New Hope probably would have tipped fans off as to what happened to them, there were plans at one point to have the crew survive as moviemakers worried Disney wouldn't get behind their relatively dark vision for the story. They did, and with Gilroy's help, the movie that blew our minds in theaters was born.