"Rogue One" made SO much money this weekend, because of course it did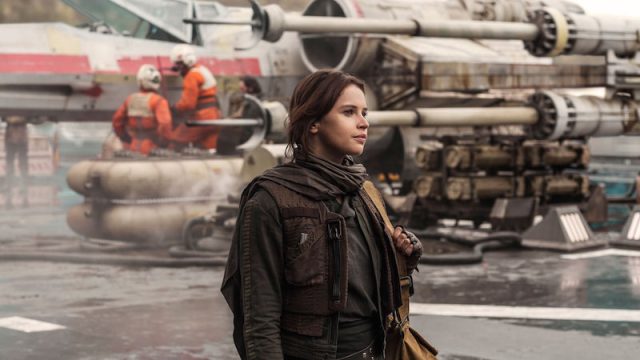 Reporting that Star Wars films are money-making gold is no real news. Yet, Rogue One: A Star Wars Story earning $155 million at box offices in North America during its opening weekend is still outrageously impressive. This makes Rogue One one of the biggest December movie release on record — second only to that OTHER Star Wars film, 2015's The Force Awakens. Not too shabby for a standalone Star Wars film, eh? Ohhhh, who are we kidding. We knew this was going to be a massive hit.
Starring Felicity Jones, Rogue One falls between Episodes III and IV and acts as a prequel to the original Star Wars: A New Hope. With A New Hope being so beloved, the rebirth of the Star Wars franchise in full force (ahem, mind the pun), and Rogue One featuring famous baddie Darth Vader, it's no surprise that beyond North America, Rogue One earned an additional $135.5 million worldwide.
That means that Rogue One grossed a total $290.5 million globally.
More money will still be made, as The New York Times noted that the movie was only released in 70% of the global market. And CNN wrote that the movie should continue making money well into January in North America as well.
CNN also provided the audience demographics that Walt Disney Studios had released. For the opening weekend, 59% of the audience was male with 41% female. CNN reported that the opening weekend audience for The Force Awakens was 58% male. So this second female-led Star Wars movie was pretty on par with The Force Awakens when it came to the gender of the audience. In the words of Queen Bey, "Who run the world? Girls!"
While Rogue One didn't make nearly as much money as The Force Awakens, which earned an astounding $248 MILLION in North America alone during its opening weekend, it showed that the power of the rebooted force is here to stay.