Get ready to head back to O-Town because the first footage of "Rocko's Modern Life: Static Cling" is HERE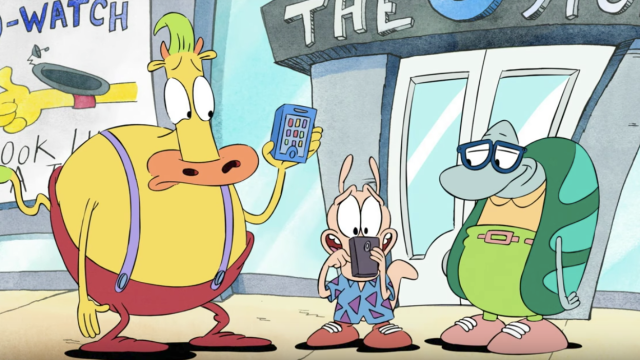 Two decades after being blasted into outerspace, Rocko, Heffer, and Filburt are back in a very tech-savvy O-Town in the new footage from the upcoming Nickelodeon special, Rocko's Modern Life: Static Cling. 
In a move that will make every '80s and '90s kid *swoon* with nostalgia, Nickelodeon is bringing Rocko's Modern Life back for a TV special, set to air on the network in 2018. The clip — which was featured at the Rocko's Modern Life panel at San Diego Comic Con — depicts Rocko, Heffer, and Filburt adapting to the ever-changing technologies of the 21st century, from cell phones and 3-D printers to energy drinks and food trucks.
Our Rocko's Modern Life-obsessed brains are seriously freaking out right now.
https://www.youtube.com/watch?v=cuF9aZxoipE?feature=oembed
It's okay Rocko, even we can't keep up.
Rocko's Modern Life was such an amazing social commentary on life in the '90s for kids — with *plenty* of jokes for the adults in the room — that we can't wait to see what the characters do with the ridiculously hi-tech gadgets the 21st century has to offer them in the upcoming film. According to the official plot synopsis, the special will dive into the all too common struggle of keeping up with ever-changing tech trends as Rocko struggles to adapt to 21st century life while Heffer and Filburt embrace all it has to offer.
Carlos Alazraqui (Rocko), Tom Kenny (Heffer), Doug Lawrence (Filbert) and Charlie Adler (Mr. and Mrs. Big Head) are all returning for the special, alongside creator Joe Murray and many of our other favorite characters.
Can 2018 get here already?!