Someone photoshopped The Rock's "Moana" character into his iconic #TBT photo and OMG it's perfect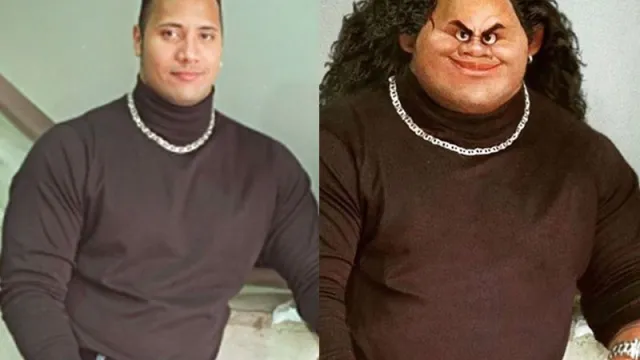 Disney's Moana recently opened in theaters and, unsurprisingly, it blessed us all with so much awesomeness. Because if there's two things we love in this world it's Disney and The Rock. The Rock, who plays badass demigod Maui in Moana, totally slayed his part – reminding us all that he's not just a great acting talent, but also a knockout singer, too! Is there anything this superstar can't do?! Probably not. And if you're a fan of The Rock, then you know he's also funny. Like, REALLY funny.
Because a man who can share an AMAZING #TBT photo like this deserves a standing ovation.
"Fanny pack and lean take it to a whole other level..."
OH, Dwaaaayyyyyne….
The Rock shared this iconic throwback photo a little over two years ago, and the world has never been the same place. In fact, we'd go so far as to say it's become one of the most famous celeb TBT's of all time!
And, because the (demi)gods are good to us all, someone decided to go ahead and photoshop The Rock's Moana character, Maui, into his famous TBT photo, and the result is AMAZING.
We can't even begin to explain how awesome this is. I mean, the photoshop artist even got Maui's tattooed ARMS seamlessly worked into this photo! LOL.
We're sure Maui would be proud.
Although, we can't imagine a tattoo of this crowning achievement magically showing up on the demigod's body anytime soon…OR CAN WE?! Dare to dream.