Robin Williams played this perfectly childlike prank on the cast of "Hook"
Leave it to Robin Williams to never grow up…even while acting on set! While filming one of his most iconic roles, Williams played a childlike prank on the Hook cast, and it makes our hearts so happy.
While Williams was a comedian and made audiences all over the world laugh, we didn't know he was a prankster on set. Okay, we probably could've guessed it, but this story just proves it.
According to his co-stars on the 1991 film Hook, the late actor was a goofball while filming.
He did play Peter Pan, so acting like a kid was technically in the job description.
In a Reddit Q&A, Thomas Tulak, who played one of the Lost Boys in the movie, opened up about Williams' antics. He explained that the Mrs. Doubtfire actor actually mooned them once. It was all to make Hook director Steven Spielberg laugh, and we bet it worked.
When asked about his favorite memory of Williams, Tulak brought up the memorable prank.
"I had the best time hanging out with Robin off set, more than anything that was actually on set," Tulak said in the Reddit AMA.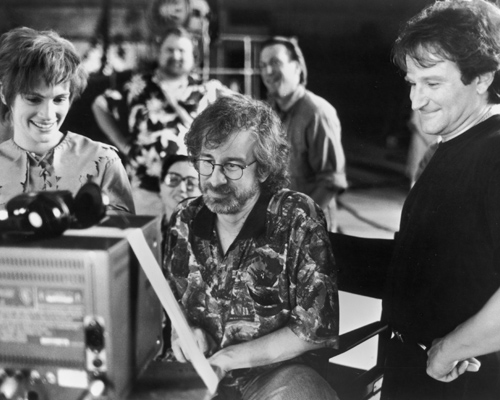 "That, or the time he jumped on the top of the pirate ship and mooned the entire cast and crew, while Steven Spielberg was trying to gain control of the crowd…chaos ensued :P," he added.
Okay, this totally sounds like something the hilarious star would've done.
Plus, who needs everything to run smoothly on a movie set anyway? It's way more fun to play a man who never grows up, with a little mooning. Don't you agree?
Tulak also revealed that the legendary actor "was dedicated to making every one around him happy. And he did so in spectacular fashion. He gave and gave of himself."
Ah, what wouldn't have given to see the filming of Hook in real life. It sounds like it was SO much fun.