10 of Robin Williams' best roles from our childhood that we still love today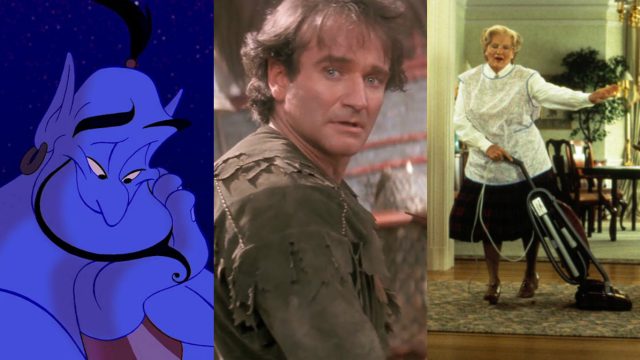 August 2018 marks the four-year anniversary of the death of legendary actor and comedian Robin Williams and it's safe to say his legacy continues to endure. The actor, whose decades long career earned him an Academy Award and a handful of Golden Globes, remains one of the most beloved figures in Hollywood.
While the actor's larger than life on-screen presence earned him millions of fans all over the world, to most, his off-screen persona was largely enigmatic. In a new documentary from HBO, fans will get an inside look at the life and career of the late actor. Robin Williams: Come Inside My Mind — which premieres on July 16th on the premium cable network — is largely narrated by Williams himself using archival footage, painting an intimate picture of the iconic actor.
Choosing a favorite or most iconic Robin Williams role is near impossible, as the actor's prolific and varied career saw him move across genres — far beyond the legendary impressionist he's often regarded as. But while roles like The World According to Garp and Good Morning, Vietnam made him a star, and Good Will Hunting earned him his Oscar, one of his most enduring legacies is the impact he made on generations of children.
For many, Williams' impact on their lives began at a young age, watching him pretend to be an old lady in Mrs. Doubtfire or when he voiced the iconic Genie in Aladdin before graduating to be the most inspirational teacher we never had. In honor of Williams' enduring legacy, we've round up some of the roles that shaped our childhood that continue to bring us joy — and occasional catharsis — every day.
Mrs. Doubtfire (1993)
https://www.youtube.com/watch?v=PqxpC_jYncE?feature=oembed
In what's probably his most iconic — and probably GIF'd — film, Williams stars as Daniel Hillard, a recently divorced dad of three who poses as an elderly British housekeeper named Mrs. Euphegenia Doubtfire in an attempt to spend quality time with his kids after his ex-wife, Miranda (Sally Field) is granted sole custody. It's an absurd concept that only Williams could have pulled off and it honestly never gets old.
Jumanji (1995)
https://www.youtube.com/watch?v=DvQ-PGUr6SM?feature=oembed
In the movie that likely made you a little wary of suspicious-looking old board games, Williams stars as Alan Parrish, who has been trapped inside the titular game since childhood. After two kids accidentally free him (one of them being a young Kirsten Dunst), they must resume the game he and his now-adult friend Sarah (Bonnie Hunt) were playing when Alan disappeared in 1969.
Dead Poets Society (1989)
https://www.youtube.com/watch?v=xv9JOVkR5PQ?feature=oembed
Maybe not a movie for the real younglings, but it was a must-see in middle school and high school English classes across the country. Williams stars as Mr. Keating, an eccentric English school teacher at an elite and oppressive prep school in Vermont who inspires a group of seniors to take their destiny into their own hands. This movie is endlessly quotable, surprisingly tragic, taught too many tweens a basic Latin phrase, and (probably) inspired en entire generation of educators.
Hook (1991)
https://www.youtube.com/watch?v=qrGpgcQHroY?feature=oembed
Welp, Peter Pan finally grew up…and became a corporate lawyer. Williams plays the legendary now-former Lost Boy who returns to Neverland after his two children are kidnapped by Captain Hook (Dustin Hoffman). In Neverland, Peter — now going by the disappointingly adult name of "Peter Banning," having forgotten his true identity — must rediscover his inner child in order to save his kids. The legendary Steven Spielberg-directed sequel to the classic tale also stars Julia Roberts as Tinker Bell, Bob Hoskins as Smee, Maggie Smith as Wendy Darling, and Gwyneth Paltrow as young Wendy.
Aladdin (1992)
https://www.youtube.com/watch?v=GI27mX1BHvk?feature=oembed
Is there anyone in the world who hasn't seen Aladdin? In the classic animated Disney movie, Williams plays Genie, who assists the titular "street rat" on his quest to woo Agrabah's free-spirited Princess Jasmine. Williams famously improvised a large bulk of his dialogue — unsurprisingly, the scores of celebrity impressions packed into the film — and it wouldn't be an exaggeration to say he changed the voiceover game for Disney.
FernGully: The Last Rainforest (1992)
https://www.youtube.com/watch?v=I2OHc4OvjVc?feature=oembed
We don't spend enough time talking about this underrated masterpiece and that is going to change. The movie follows Crysta and a community a fairies living in FernGully whose lives are turned upside down by the arrival of humans looking to destroy the rainforest. Williams stars in the film as Batty Koda, a bat who was experimented on by humans, and stumbles upon and befriends Crysta and the fairies. Yes friends, this children's movie went there on the dangers of pollution and animal testing. It's been over 25 years since its release but it may be the perfect time for, ahem, some people — also all of us — to revisit it.
Happy Feet (2006)
https://www.youtube.com/watch?v=aIBsnOyJB7Y?feature=oembed
Have you ever seen anything as adorable as a dancing penguin? The film follows Mumble (Elijah Wood), the only emperor penguin in all of Antarctica who cannot sing. Instead, he possesses the unusual gift of dance. Williams stars in the dual roles of Ramón (an Adelie penguin who takes the beleaguered dancing penguin in), and Lovelace (a knowledgable rockhopper penguin). The celeb-stuffed film is adorable, is a deserving spotlight for penguins, and boasts an outrageously catchy soundtrack.
Flubber (1997)
https://www.youtube.com/watch?v=HJT2QOpnYb8?feature=oembed
Williams plays eccentric college professor and inventor, Philip Brainard, whose latest bonkers research experiment sees him create a viable green goo that he affectionately names Flubber — as in flying rubber. Philip tries to find a way to use Flubber to save his college from closing, reconcile with his frustrated fiancée, and keep the newly created being out of the hands of nefarious rivals. It's almost wild to think Flubber was released just *weeks* before Good Will Hunting. Talk about a man who can do both.
RV (2006)
https://www.youtube.com/watch?v=foiHTT2rcso?feature=oembed
Okay, technically most of us weren't kids anymore when this film came out, but it's an oddly charming tale about the worst kind of family vacation: An RV road trip. Williams plays Bob, a successful advertising executive who, in an attempt to spent more time with wife Jamie (Cheryl Hines) and kids (JoJo and Josh Hutcherson), rents and RV for what turns out to be a disastrous adventure. It taught us that there's nothing worse than being trapped in an RV with our family for a week — no matter how much we love them.
Night at the Museum (2006)
https://www.youtube.com/watch?v=IzEsKHQq3Fg?feature=oembed
Again, most of us were not quite kids when the film, and its subsequent sequels came out, but Ben Stiller as a night security guard at New York's Museum of Natural History, whose exhibits come to life at night. While the films are full of stars playing historical figures and exhibits, but Williams is the best as former President Teddy Roosevelt.