Robin Thicke's girlfriend is pregnant, and the baby's due date has a super sweet meaning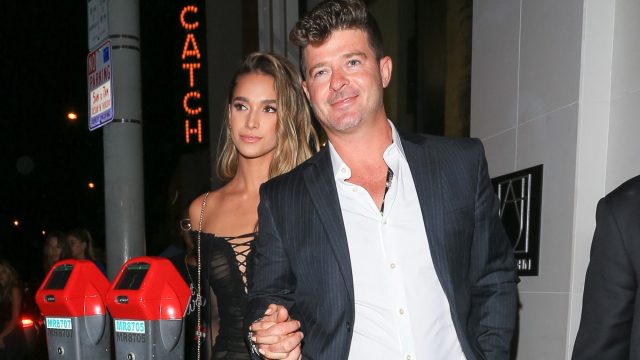 We're sending big congratulations to the parents-to-be! Robin Thicke and his girlfriend April Love Geary are pregnant, and the baby's due date has a very special meaning. Geary posted her ultrasound of the tiny baby — a girl, according to Us Weekly — on Instagram.
In the caption, Geary revealed that baby Thicke will share the same birthday as grandpa Alan Thicke, Robin's late father. Alan Thicke passed away from a heart attack in December 2016.
"Robin and I are very excited to share with you all that we're having a baby! The due date is March 1st, Alan's birthday! ❤️" Geary wrote in the caption.
We're not crying. You are.
Baby Thicke will be welcomed by big brother Julien, Robin's 7-year-old son from his previous marriage to Paula Patton. Julien will show her the ropes of being a kid in the Thicke family, which includes holding many exotic animals.
https://www.instagram.com/p/BUjNDr1hBLS
https://www.instagram.com/p/BUjL9nLBQ43
And she may literally be just a "lil peanut," but momma Geary seems to be already enjoying every moment spent with her growing baby.
The singer, perhaps most famous for 2013's "Blurred Lines," has been dating Geary publicly since 2015 when they were first spotted together at the 2015 Cannes Film Festival.
The couple is big on travel and spending quality family time with Julien, so we have no doubt that Baby Thicke is going to be one lucky little girl.
Congratulations to the Thicke and Geary families. We can't wait to meet the lil peanut.