Robert Mueller visited an Apple Genius Bar, and Twitter has jokes for days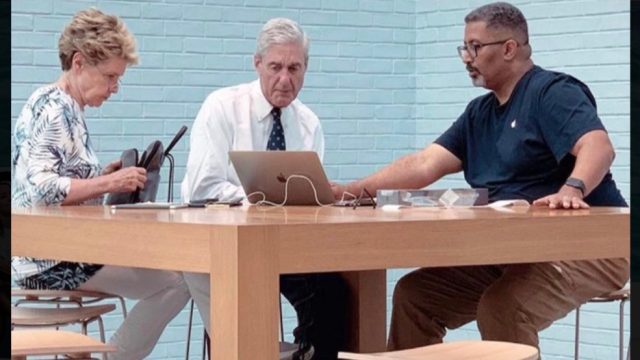 Most of us know Robert Mueller as the special counsel appointed to investigate Russian interference in the 2016 presidential election. Usually, when his name makes headlines, it either means someone is about to get indicted or President Donald Trump is threatening to fire him (again). But even former FBI directors need tech support sometimes, and Mueller was recently spotted visiting an Apple Store Genius Bar.
Business Insider reported that a picture of Mueller at an Apple store was originally shared by Meghan Pianta, who works in Washington D.C. as a communications professional. Pianta reportedly posted the image to her Instagram Story, and she told Business Insider that she suspected Mueller was getting help with a laptop.
The image was later tweeted on September 26th, this time by NBC Washington reporter Kelly Cohen. She wrote that the picture was a screenshot from an Instagram Story that her friend had texted her, and that it was reportedly taken at the Georgetown Apple Store.
"Text from a friend—looks like even Robert Mueller needs technology help," she captioned the photo.
We'd pegged Mueller as more of a PC guy, to be honest.
Twitter users wondered what the special counsel could be investigating at the Genius Bar.
Some hoped Mueller's tech problems would clear up soon.
false
https://twitter.com/udfredirect/status/1045275186713505792
Others felt that he should get back to work.
https://twitter.com/udfredirect/status/1045057996076830720
And some took the opportunity to poke fun at Trump.
https://twitter.com/udfredirect/status/1045059358349041664
As Politico notes, two people have been sentenced in Mueller's investigation so far, with a third sentencing expected to take place in October. In the meantime, at least we know he has some genius tech support at his disposal.