Follow this ~spooktacular~ road trip itinerary if you want to visit the East Coast's most haunted destinations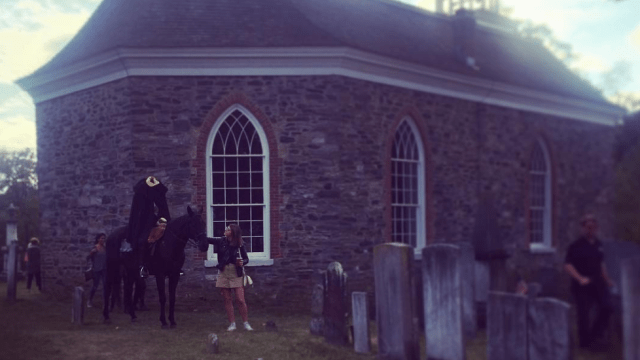 If you've survived this long under Trump's soul-sucking presidency, congratulations. You're a pretty tough cookie. And because your heart can handle these hair-raising times we live in, we know the Halloween season's haunted happenings — houses, hayrides, and cemeteries, oh my! — will be a delightfully scream-filled walk in the park. That's why we want to trick, er… treat you to this spooktacular road trip itinerary to the East Coast's most haunted destinations (assembled with a little help from Priceline.com).
Real-life horrors bite (two words: Donald Trump. EEK!), but make-believe scares are good for the soul, so load up on your favorite Halloween candy (Reese's Peanut Butter Pumpkins, please!) and jump on the highway to a helluva good time!
Bates Motel, Glen Mills, PA
Now in its 27th year and scarier than ever, the Bates Motel and Haunted Hayride invites poor souls to walk among the dead — or rather, the undead — with three uniquely spooky experiences to choose from. A creepy house tour, a wicked wagon ride through a dark forest, or a terrifying stroll through a tall cornfield at night — pick your poison, ghouls!
Or if you're feeling brave, take on all three. But be warned: The high-startle attractions are not recommended for children under 8 or people with heart conditions. Uh, we may sit this one out, okthanksBYEEEEE!
Where to stay: Residence Inn by Marriott Glen Mills, starting at $112/night
The Amityville House, Amityville, NY
You've seen the movies (the 1976 stuff-of-nightmares original and the slightly less traumatizing 2005 remake), but did you know the Amityville Horror actually happened? It's true! Well, sort of. While the experience of the family in the frightening films isn't exactly based in fact, the gruesome murders that took place in the house and inspired the films are.
On November 13th, 1974, 23-year-old Ronald J. DeFeo, Jr. shot and killed his entire family while they slept, including his parents and four siblings. DeFeo later told police that the house made him do it.
Drop by the home and get a sense of the house's evil for yourself. But don't go in. Someone actually lives there!
Where to stay: Holiday Inn Plainview, starting at $114/night
Sleepy Hollow, NY
The inspiration behind Washington Irving's spirited short story, The Legend of Sleepy Hollow, the small town of Sleepy Hollow (formerly known as North Tarrytown) celebrates its literary namesake every fall with Sleepy Hollow Cemetery tours (where Irving RIPs), Headless Halloween Mini Golf, and the annual Great Jack O'Lantern Blaze, an event that features 7,000 hand-carved, illuminated pumpkins, perfect for the Headless Horseman in search of a new 'do and, well… a head!
Oh, and don't be afraid to say "Heyyyy…" to Herr Horseman as he rides by. Just don't lose your head!
Where to stay: Sheraton Tarrytown Hotel, starting at $116/night
Dark Manor House, Baltic, CT
Voted Connecticut's #1 scariest haunted house, Dark Manor makes the horribly frightening terribly fun by inviting guests to wander its tormented halls and experience the ghastly entities that reside inside its walls.
Just when you think you've escaped the desperate screams echoing endlessly down its twisting corridors, there's more. Like a terrifying trip through a dark graveyard. Escaped the graveyard unscathed? Cool. But there's MORE. Dig deep to survive the attraction's last test of nerves: the Catacombs. Is this the end? It depends on what you mean by the end…. BAHAHAHAHAHAHAHAHA!
Where to stay: Hyatt Place Mohegan Sun, starting at $101/night
Salem, MA
https://www.instagram.com/p/BZrq22rBICx
The spine-tingling site of one of the most disturbing chapters in American history, Salem stands out as one of the most legitimately spooky destinations on our list. Bone up on Salem's dark history at the Salem Witch Museum. Visit Proctor's Ledge, where 19 women were executed in 1692 for the crime of witchcraft. Or sample a smattering of Salem's haunted offerings by taking Salem Trolley's Tales and Tombstones Tour.
P.S. Witches are welcome now, too.
Where to stay: Springhill Suites by Marriott Peabody, starting at $121/night
Happy haunting!