The Women of 'Riverdale' Just Made a Joint TikTok Account
And it has Camila Mendes' "WAP" dance fail.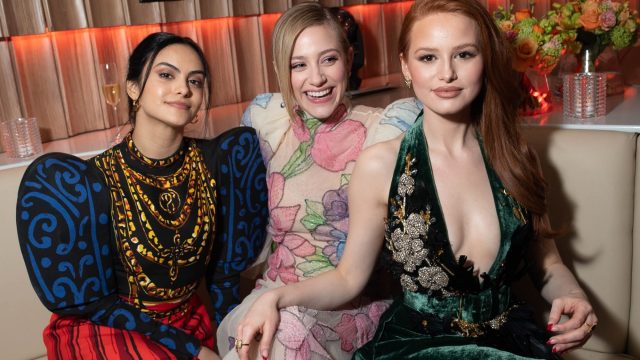 The Riverdale on-screen BFFs (well, most of the time) are definitely off-screen BFFs, too, and now they're proving it on social media. Lili Reinhart, Camila Mendes, and Madelaine Petsch—aka Betty Cooper, Veronica Lodge, and Cheryl Blossom, respectively—just created their own joint TikTok account. Not only does it have the perfect handle name for the three Riverdale stars, but it includes video evidence of Mendes' relatable dance fail to "WAP." So yes, it's a must-follow.
Just four days ago, Reinhart, Mendes, and Petsch created the @blondebrunetteredhead TikTok account under the name Lamila Petschart, which is clearly a mashup of the three friends' names. And in those four days, it has given us so many glorious things. If you aren't on TikTok, you can see some of the videos on Mendes' Instagram account—like this one below, where she and Reinhart do their best "Hit it Fergie," with Fergie's "Fergalicious" in the background.
Teen choice tikiest tok? Camila wrote in the caption.
In another video, Mendes and Petsch try Cardi B and Megan Thee Stallion's moves from their "WAP" music video, and let's just say Mendes takes "make it drop" literally. She falls to the floor laughing, and we love to see this relatable content.
They also do some videos in character as their Riverdale alter-egos, and the actor BFFs do "60 second" interviews with each other. Our favorite moment? Petsch is asked "What was your favorite book series when you were younger?" Her response is, "Vogue?" Incredible. Watch that video on the @blondebrunetteredhead account here.
Keep these videos coming, Lamila Petschart. They are an antidote to quarantine blues.