"Riverdale" star Madelaine Petsch opened up about being bullied when she was younger, and how she overcame it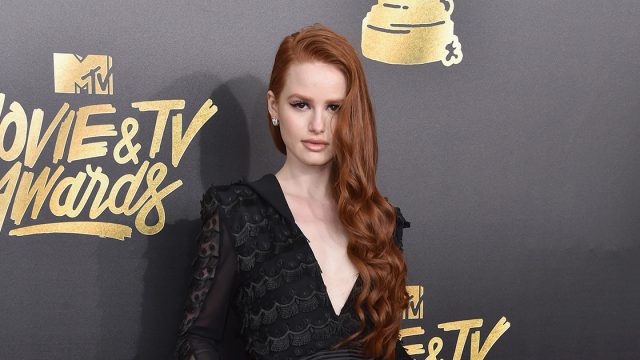 She might now be best known as the outspoken highschooler Cheryl Blossom on The CW's breakout hit Riverdale, but now Madelaine Petsch has spoken about her experiences with bullying, and the difficulties that she herself faced when she was younger.
Petsch, who has previously spoken about the myths surrounding redheads, was talking with Stylecaster when she opened up about her time growing up, and how she was picked on as a kid.
The 22-year-old shared how, when she was younger, she was constantly moving between the U.S. and South Africa, and how this nomadic existence lead to some pretty nasty experiences.
"I was mercilessly bullied," the actor revealed. "I was a little kid with a South African accent and bright red hair. I was the weirdest kid in this small town in Washington."
This otherness made Petsch an easy target for people who were didn't understand that she was different.
"They said I was a weirdo or that I didn't belong there," she sad."That was the hardest one, when people said I didn't belong there."
In a bid to fit in, the actor said that she learned to mask her South African accent, and adopted an American one. However, it was also her red hair that lead to people calling her nasty names like "carrot top" and "firecrotch."
"It really affected me in the beginning because I was the only kid, especially first through sixth grade, who was really mercilessly bullied, and I never really understood why," she recalled.
It wasn't until she enrolled at a performing arts high school that Petsch began to feel like she fit in. Rather than tease her for her red hair, people absolutely adored it. "I realized the things people made fun of me for were the things that made me unique," she admitted.
Indeed, Petsch said that taking on the role of Cheryl in Riverdale also helped her overcome her experiences of being bullied.
"After playing Cheryl, I realized the bullying doesn't come from anything but insecurities in oneself. The people who are bullying you, they're insecure about who they are and that's why they're bullying you. It never has to do with the person they're bullying," she said. "They desperately want to be loved and be accepted, and they go out of their way to make people feel unaccepted so that they're not alone."
It was, in fact, that you see both sides of Cheryl — the popular high school girl as well as the problems with her family and at home — in Riverdale that initially drew the actor to the role in the first place. As she says, "there's always something going on behind the curtain that people don't know about." 
In terms of her advice for overcoming bullying, Petsch had this pearl of wisdom to share.
"It's about finding where you're comfortable with yourself," she said, "and staying true to yourself no matter the circumstances." 
We're so grateful and incredibly proud of how brave Madelaine Petsch is for sharing her experiences with bullying. Her journey from a self-conscious kid to a successful actor is inspiring, and we're so glad that, through her work on Riverdale, she's been able to overcome some of the experiences she had while she was younger.