Riverdale Season 5 will take a major time jump, and there's going to be some relationship drama
This story contains spoilers for Riverdale Season 4.
Most teen shows are built off of traditional high school dynamics: classrooms, sports, first loves, and Drama with a capital D. The foundation of Riverdale is no different—that is, aside from the murders, cults, gangs, and mysteries unraveling in every episode. But the days of the Riverdale High Vixens and Bulldogs wearing yellow and blue uniforms are coming to an end, as the beloved characters graduate. According to executive producer and creator Roberto Aguirre-Sacasa, Riverdale will follow suit with other teen dramas like Pretty Little Liars and skip the characters' college years—jumping straight into their lives as adults instead.
In a new interview, Aguirre-Sacasa revealed his plans for Riverdale Season 5 and confirmed that a time jump will happen.
"To me high school was better than college," he told Entertainment Tonight. "And since all of our characters would be going to different colleges, my instinct has been to leapfrog over four years, and kind of pick up with everyone there."
We can't say we're surprised. Veronica plans to attend college in New York, Betty is heading to Yale, Jughead might attend the University of Iowa, and Archie plans to stay in Riverdale. Although we would love to watch Betty inevitably dig up mysteries at Yale, it wouldn't be the same without the four core characters together. Plus, it's called Riverdale for a reason—it just wouldn't feel right if most of the show wasn't even based in the town of terrors.
Honestly, we're so excited to see how the characters grow throughout college—will Veronica have built her rum empire, or cooked up something entirely different? Will Jughead finally have finished his novel? Will Betty have joined her brother in the FBI? And of course, where will Bughead, Varchie, and Barchie stand? We'll find out, in due time.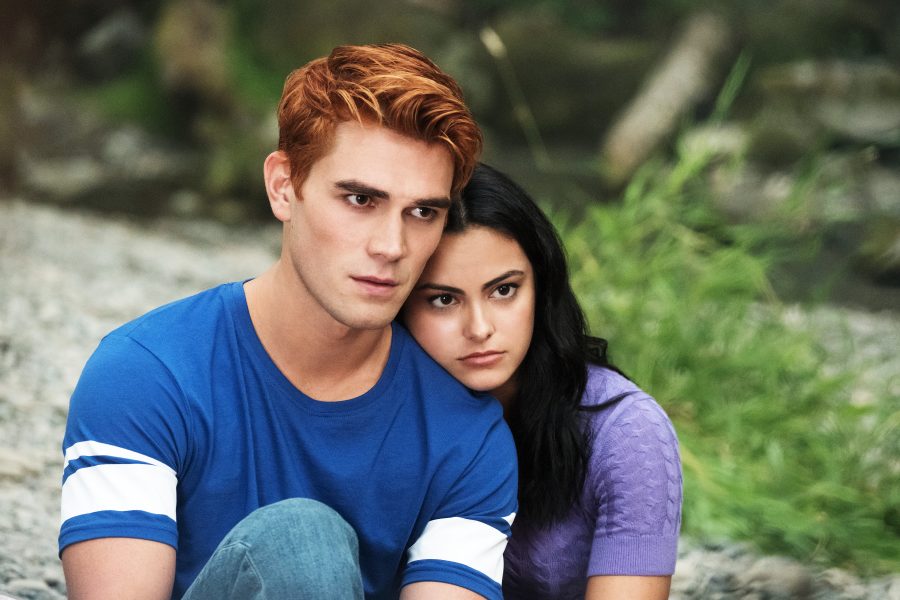 Don't fret, Bughead and Varchie stans: Season 5 will begin by rounding out the Season 4 storylines that were left up-in-the-air due to the coronavirus pandemic halting production.
You know, like those creepy videotapes being left on people's doorsteps, and Betty and Archie's secret kiss? Oh, and the biggest milestones for high school students that we haven't seen the gang experience yet: senior prom and graduation.
"The writers were all meeting via Zoom and the one thing we decided on is that rather than doing a time jump between Season 4 and 5, we thought that things like prom and things like graduation [are important]," Aguirre-Sacasa said. "After spending four years with these characters in high school, you don't want to lose that—so, the first three episodes back are kind of a direct continuation."
There's still a lot to unpack from Season 4, and Aguirre-Sacasa notes that the Barchie relationship drama isn't over yet. The Riverdale Season 5 premiere will include senior prom, which spells trouble for Varchie, according to the showrunner.
"Varchie's got a very, very dramatic prom episode," Aguirre-Sacasa said. "A lot of stuff comes out at prom. You know, we haven't heard or seen the last of the song that Archie wrote for Betty, and right at this moment where they should be celebrating everything, a lot happens. It's pretty dramatic what happens at prom with Varchie."
Okay, now we're even more eager for the Season 5 premiere, and we're wondering how this supposed Varchie blowup will impact Bughead. Apparently we haven't seen the last of those kissing emojis from Archie to Betty? We need answers!
Time jumps are always a risk when it comes to TV shows, so we're glad to know that we have a few more episodes set in high school when Riverdale Season 5 premieres. Whatever happens, it sounds like it's going to be just as juicy as ever.