The 'Riverdale' Showrunner Just Posted Some Mysterious Season 5 Hints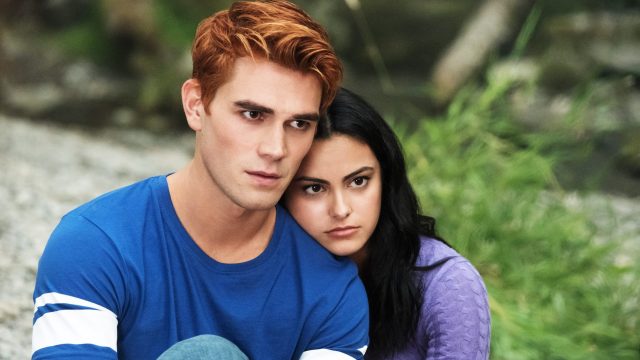 This article contains spoilers for Riverdale Season 4.
Okay Riverdale fans, it's time to get your Betty Cooper-solving-a-mystery faces on because we just received some major clues about what's in store for Season 5. On Wednesday and Thursday via Instagram, showrunner Roberto Aguirre-Sacasa shared the names of the first four episodes of Riverdale Season 5 along with four corresponding Archie comic scenes—and there's a lot to unpack here. Aguirre-Sacasa also wrote that the cast had completed their first table reads "over Zoom and in quarantine" for Season 5.
The first episode revealed in his posts is called "Climax," and the comic features Jughead asking Betty to the prom—an event that was supposed to take place in Season 4 before it prematurely ended due to coronavirus suspending production. As E Online reports, half of the prom episode was filmed before production shutdown, but it was missing too many Archie and Veronica scenes to air.
For a refresher, the last episode that aired of Riverdale followed the gang attempting to save prom after Mr. Honey cancels it. It involved a conversation between Betty and Archie about that kiss and ended with yet another unsettling and mysterious tape, which recreates the murder that only happened in the first draft of the fictional story Jughead wrote. So, with the first episode in Season 5 titled "Climax," we can only hope this means we'll finally find out who's behind all those snuff films.
The second episode of Season 5 is called The Preppy Murders and, we're sorry to break it to you, but from the looks of the comic, it appears Varchie may be breaking up.
And, per the name, we might also be getting a visit from Jughead's old Stonewell Prep classmates—you know, the ones who plotted to frame Betty for his fake-out murder in Season 4.
Aguirre-Sacasa continued with more sneak peaks in another post, revealing the fourth episode title as "Graduation." In the accompanying comic, someone is holding a photo of the gang in their caps and gowns and the text reads: "Sometimes I feel like standing in the middle of Main Street and screaming, 'Archie Andrews grew up! He's not an innocent teenager anymore, so stop treating him like one!' But I guess you don't really care about that!" 
Episode 3 seems to be the place where the Riverdale crew finally leaves high school, a central backdrop for the past four seasons, so it's no surprise that what comes after is especially ominous.
In an interview with Jimmy Fallon in August, Lili Reinhart revealed that the show would take a seven-year time jump into the future which would put the characters in their mid-20s, and it looks like episode 4 might be when this drastic change takes place. The fourth episode is titled "Purgatory," and the comic features Jughead, Betty, and Veronica standing above a grave underneath a ghostly image of Archie's head in a soldier helmet.
According to E Online, the comic is from Archie 1941 in which Archie was presumed to have died in battle in World War II, but was actually alive. Now, we doubt the show is going to time travel to the '40s, but this could mean Archie will join the military and we might get another fake-out death like Jughead's. Or, dare we say it, Archie might actually die?
We won't get the actual episodes for Season 5 until 2021, but until then, these comic strips are holding us over—and we'll be working on further developing our fan theories for the foreseeable future in quarantine.