The latest Riverdale Season 3 footage reveals a much-anticipated new romance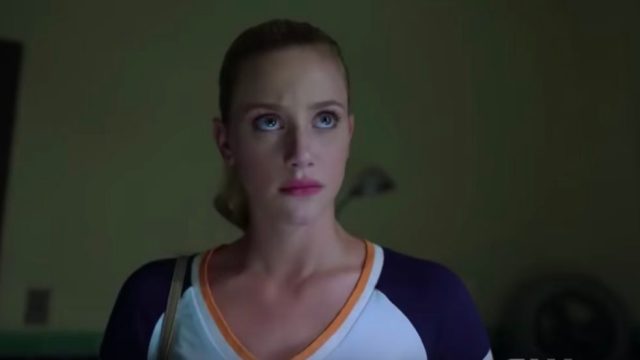 The CW just released a new teaser for Season 3 of Riverdale, and it appears the titular town isn't returning to its quaint and quiet roots anytime soon. In true Riverdale fashion, the 30-second teaser is chock-full of jaw-dropping drama, teasing new romances, Archie's murder trial, and that very pesky cult about to invade the town.
Warning: Season 2 spoilers ahead!
During the closing moments of Season 2, hometown hero Archie Andrews (KJ Apa) was arrested for murder—which he didn't commit—just moments after being named student body president. And now, it looks like Veronica Lodge (Camila Mendes) remains determined to save her boyfriend from her father Hiram (Mark Consuelos)—"We will survive whatever you have planned because we are endgame," she says. But while Veronica seems confident she and Archie can survive the murder charges he's trying to beat, shots from the teaser indicate a long, tumultuous legal battle ahead.
And while one couple is facing the trial of their lives, another beloved pair appears to finally be getting a breather. After a very rocky Season 2, it looks like Bughead is stronger than ever, living their best lives as Serpent King and Queen…finally.
Of course, that leads us to the most OMG moment in the teaser. 
Alice Cooper (Mädchen Amick) and FP Jones (Skeet Ulrich) are making it official. Check it all out:
https://www.youtube.com/watch?v=Is6aB4AY4O4?feature=oembed
After two seasons of teasing their past love affair and dropping hints that they still have feelings for one another, they may finally get together in the upcoming season. Oh, and it also appears that Kevin Keller (Casey Cott) and Moose Mason (Cody Kearsley) may be finally taking things public as well.
But—because this is Riverdale—ominous elements are afoot, and the teaser ends with Jughead yelling for help at the foot of what definitely looks like a ritualistic sacrifice. And to think that was just a 30-second teaser.
The straight-up bonkers drama returns on October 10th to The CW at 8 p.m ET.