KJ Apa says we can blame Cole Sprouse for that insane "Riverdale" Season 3 cliffhanger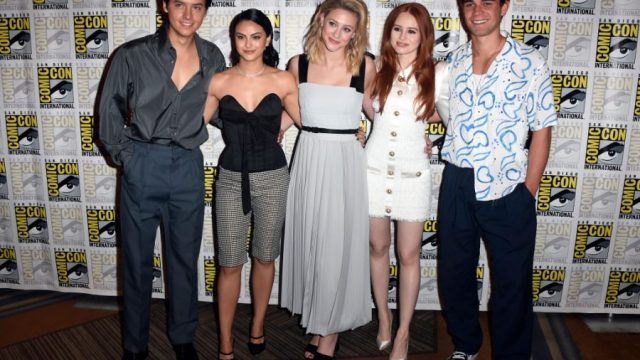 If there's one thing the writers of Riverdale love—besides, you know, death-defying twists, turns, and revenge moments—it's a good cliffhanger. Last we saw our favorite teens, in a flash-forward scene at the end of Season 3, there was one prominent, beanie-wearing member mysteriously missing from the clan. And during that eerie, time-jump scene, which supposedly takes place during their spring break of senior year, Archie, Betty, and Veronica threw Jughead's blood-soaked beanie into a blazing fire—and Jughead was nowhere to be found.
Naturally, this caused a frenzy among fans. We wondered: Where is he? Is he okay?! Will he be returning for Season 4? What about Bughead?!
It was the cliffhanger to end all cliffhangers. It brought more questions than answers and certainly didn't give us the happy ending we thought we would be getting. When the scene jumps back to present day to show the foursome happily clinking Pop's milkshakes and vowing to be "friends forever," we got the ominous feeling that there was much more drama ahead.
As it turns out, Jughead's absence in that foreboding scene has less to do with the looming fate of Jughead Jones and more so to do with the then-current comfort level of actor Cole Sprouse.
According to an interview with the Riverdale cast, conducted by TV Line at the 2019 San Diego Comic-Con, KJ Apa revealed that the scene around the fire was originally written to include Jughead, but Sprouse was "too cold" to film it, so he stayed back.
"The only reason why the hat was [in the fire] was because Cole was cold that night," Apa, who plays Archie Andrews, told the interviewer. "It was scripted all four of us and he was like, 'I don't wanna do it,' so he didn't," Lili Reinhart, who plays Betty Cooper, confirmed.
Apa said that the original ending was supposed to be Archie, Betty, Veronica and Jughead standing around the fire, covered in blood. "We all threw our clothes in," he shared of the original plan. Instead, the writers pivoted to have them throw Jughead's signature hat into the flames, a much more dramatic choice.
Camila Mendes, who plays Veronica Lodge, elaborated, "I think [the writers] had the idea, like they wanted to play with that idea in Season 4, so then Cole being cold was just like the final straw.
Jughead's character is no stranger to experiencing the brink of death. But this interview has us convinced that his flannel-wearing self will make yet another triumphant return for the fourth season (or so we hope).
On his character's own fate, Sprouse joked, "Well, I've died every season so…"
The new season of Riverdale is slated to premiere October 9th on the CW. And rumor has it there will be a Halloween episode, so we think it's safe to say senior year might be the most dramatic yet.