This "Riverdale" Season 2 trailer teases wedding bells for Veronica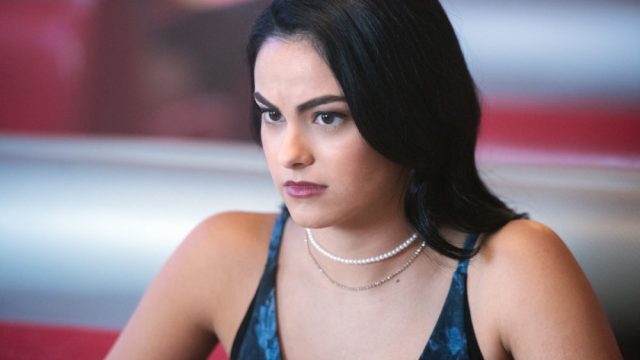 Varchie fans, rejoice! From the looks of Riverdale's "Motive Trailer," it appears Veronica will be walking down the aisle in Season 2. We only get a quick glimpse, but she certainly looks bridal in what appears to be a white, ethereal gown.
Not to mention, she's backed by a crowd of spectators — and, oh wait…is that Archie's mom, Mary, smiling and winking? That's only fueling these speculative flames, because last we saw #VARCHIE together, they had a 'lil sumthin' sumthin' going on romantically. So perhaps, Mary is happy to see her son tying the knot with Veronica? We ship it.
But the trailer is also, in typical Riverdale fashion, very dark.
We see someone holding a gun to Archie's head, in a scene we're guessing is somehow connected to his father, Fred, who was shot in the Season 1 finale. Maybe his father's attackers are after Archie now? https://www.youtube.com/watch?v=TdH_NL35Nbw
"What if robbery wasn't the motive," Jughead asks, narrating as images of Fred in the hospital appear onscreen. "People hold grudges." Soon, we get a glimpse of Cheryl walking through the hospital. So perhaps, she's one of those people holding a grudge…or two, or ten?
"Think of where we live," Jughead continues. That Riverdale is a pretty dark, secretive place, so we're pretty confident that Fred's attack was no accident.
Also in the trailer? We see a steamy, #VARCHIE shower scene (!!!), get a look at Veronica's dad, Hiram (Mark Consuelos), and a whole lot more.
Riverdale returns to The CW on October 11th. In the meantime, we'll be decoding this trailer even further — and waiting for our #VARCHIE wedding invitation to arrive in the mail.