"Riverdale's" Madelaine Petsch tells us her beauty secrets and the color she'd dye her hair if she could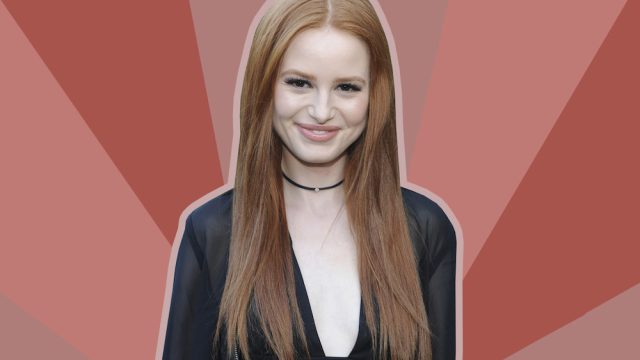 Riverdale is one of my favorite shows on television right now. Aside from the crazy plot twists and fascinating storyline, the CW series has exceptional fashion, easy-to-watch actors (here's looking at you, Cole Sprouse), and fearless leading ladies. One of them being Madelaine Petsch, who plays Cheryl Blossom.
However, Madelaine couldn't be more opposite from Cheryl. Their personalities are not only exceedingly different — Cheryl is Riverdale High's HBIC while Madelaine is a sweetheart — but when it comes to beauty, the actress is way more low-maintenance than her character.
We spoke to the Riverdale star about all things beauty, from the hair color she'd love to try (even though her mom would kill her if she dyed it — her words not mine), to the red lipstick trick her makeup artist showed her, to her new partnership with Bioré. Madelaine is the brand's ambassador for its recently released Baking Soda Acne Cleansing Foam. She's loved the brand since she was eight years old, and honestly, who didn't own a Bioré product back in high school?
If you're curious to know more about the actress's beauty secrets, keep on reading.
HelloGiggles: How has your skin care routine changed since working on Riverdale?
Madelaine Petsch: Before the show, I realized that I didn't take all of my makeup off before I went to bed. I feel like I wasn't like really cleansing properly, and then when I got on the show, the makeup artists were like, "Oh girl, you can't just wash your face once. You need to do it multiple times to get all of the makeup off." And that really did change my skin. I also apply sunscreen all over my body. I take a bath in SPF 140 before I walk out of the door.
HG: Have you noticed an improvement in your skin?
MP: Absolutely. I'm not kidding. I used to have cystic acne and I attribute it to triple washing and drinking a lot of water. And using the right product for your face. When I was a kid I used a lot more charcoal products, even though I've got combination skin, so it was targeting everything. You know what I mean? Whereas now, I found this product that works well for my skin. You have to try a bunch of things to figure out what works for you.
HG: What are your favorite Bioré products right now?
MP: They're actually launching the new Baking Soda Acne Cleansing Foam that I'm obsessed with. Its got a very nice, citrusy summer scent and it's got salicylic acid in it. I've got combination skin so we all know my skin needs that, and it's a foam, so it kind of goes straight into my pores, which I need, especially with all the makeup I wear. I've always been a huge fan of the pore strips. I've been using those since I was eight years old. That's the first beauty product I ever owned. I told them that when we started working together.
HG: Are there any beauty tips and tricks that you've learned from your cast mates?
MP: Well, Camila does not need anything on her face. But I actually learned a lot from my makeup artist. I think the number one tip I've learned from her is no matter whether you think your lipstick looks perfect or not, once you apply your lipstick, if you go around it with a concealer, it changes the game. It makes it look so much sharper and on point.
HG: I've read that you wouldn't dye your hair, but if you lived in a magical world, and were able to color your hair without any regrets, what hair color would you want?
MP: I would try a silvery, white purple. I think I'd look awful, to be honest, in anything but red. I've actually been trying on wigs lately for fun, and I'm very surprised by how awful I look. Red is definitely my color. But say the right role comes along and they ask me to dye my hair, I don't know if they'll be pleased with the result after they dye it.
HG: What wigs have you been playing around with?
MP: I tried a black one because I thought it would be really funny and then I tried some red bangs, for fashion week, but it didn't work out. Then, I tried a blonde one, but I tried a white blonde. I think because my skin's so light, it could work. I might look like a little elf from Lord of the Rings, though. Like Liv Tyler's character.
HG: What hairstyles would you like to experiment with?
MP: I love the shoulder bob situation that everyone's doing with the loose waves. I'm not allowed to cut my hair; I think my mom would disown me right now, but I love that look. I think it's really chic and cool. Everyone that I know who has it, it's so low-maintenance and I'm so envious and jealous.
HG: What was the last thing you bought online?
MP: Oh, my vitamins. It's such a boring answer. I'm sorry. I don't shop a lot, which is crazy. I'm not a huge shopper. I'm pretty frugal, but my vitamins were the last thing I bought online. They're vegan gummy vitamins. I don't know if they actually help but I like eating them.