"Riverdale" darling Lili Reinhart talks acne struggles and her secret life as a makeup artist
Lili Reinhart may be a star on the hit CW show Riverdale (she plays blonde beauty Betty Cooper), but she's definitely just like us. The 20-year-old actress get blemishes just like us, she likes buying drugstore mascara and body scrubs just like us, and she can't resist a good Sephora splurge just like us. Basically, she's a girl after our own heart. And this isn't a façade either, because the Riverdale star joined her fave affordable brand, St. Ives, at their Mixing Bar in NYC to create her own custom product.
A lover of exfoliants, simple skin care, and sweet-smelling lotions, Lili created a personalized face scrub at the Mixing Bar.
"I made a nice watermelon agave face scrub, which smells magical," she said.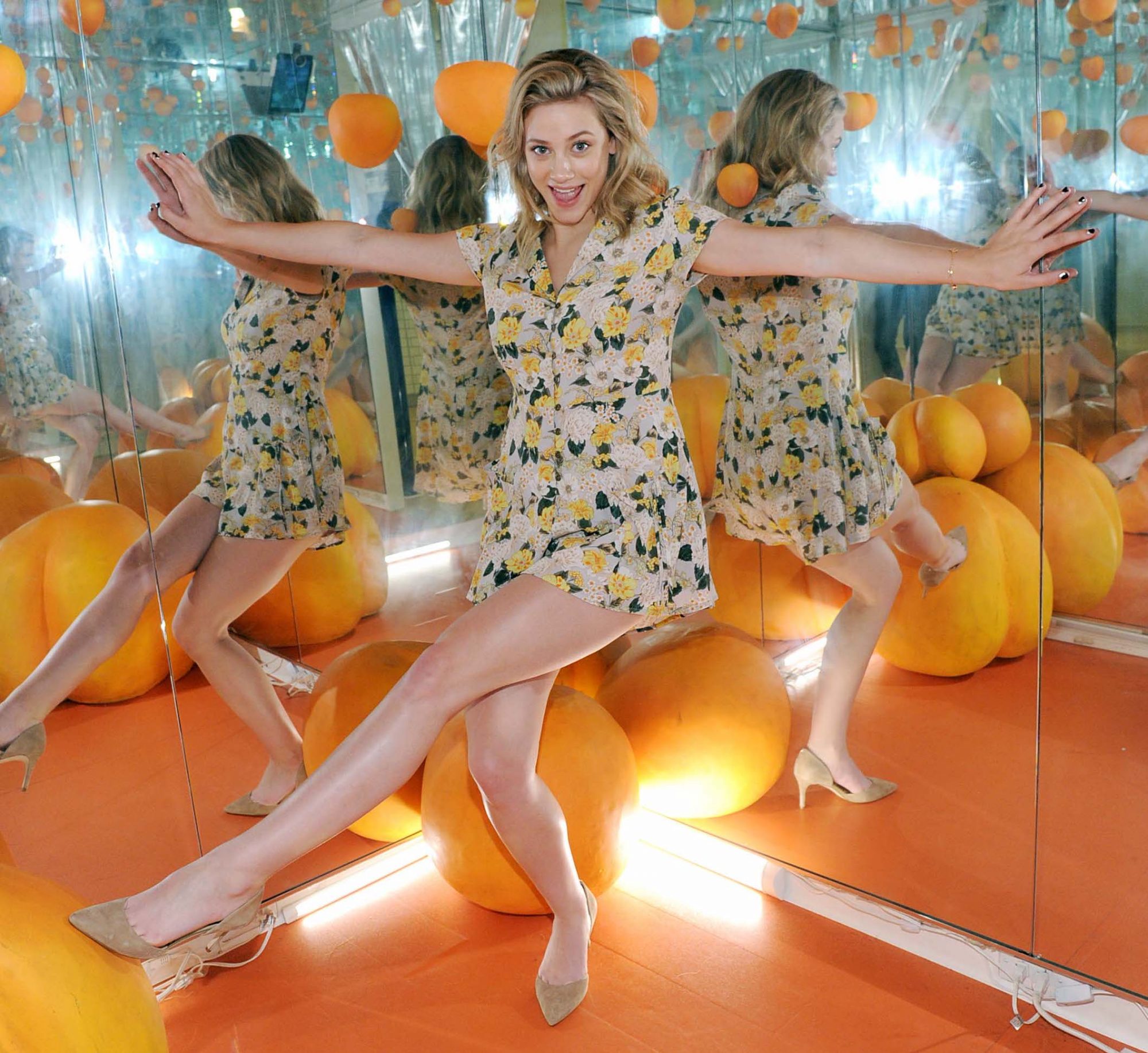 While we weren't at the store with Lili, we got to chat on the phone with her about all things beauty.
From the lip scrub that gives her a perfect pink pout on Riverdale to blowing her skin problems out of proportion (girl, we've all been there), Lili gave us the scoop.
Oh, and did we mention that the Riverdale star hinted that she'd love to plan a Halloween costume with one of her castmates? The holiday is right around the corner, and it got us thinking — could it be with bestie Camila Mendes, who plays Veronica, or maybe her rumored boo (and our imaginary boyfriend) Cole Sprouse? This is our kind of mystery while we wait for Season 2 of Riverdale.
HelloGiggles: Take us through your typical morning beauty routine.
Lili Reinhart: Well, if I need it, I use an exfoliant. This morning I used the St. Ives Apricot Scrub because I took a red-eye from LA to New York and my skin looked a little dull. I have acne so I use an acne cleanser, and then just a really good, kind of light, daily moisturizer. That's pretty much my basic morning and night routine. At night, I'll use, instead of a moisturizer, an oil or something a little thicker.
HG: What are some of your travel beauty essentials?
LR: Definitely an exfoliant, and maybe some Tylenol if I'm sleeping on the plane in weird positions.
HG: How are you and Betty the most similar in terms of your style and beauty routine?
LR: I think both Betty and I are very simple when it comes to beauty. On the show, we try not to use too much makeup, I definitely have a light layer of foundation on — we apply it with a BeautyBlender — to make it look super natural, glowy, and youthful. That's what I try and do as well. I rarely wear makeup when I'm not working because I try to let my skin breathe as much as it can. I think we both are quite natural in our looks, and that's what I love about Betty. It's not a huge production in the morning when I go to work and get my makeup done. It's still very subdued, and I don't feel like I have a pound of makeup on my face.
HG: That's nice!
LR: Yeah, it really is though! When it's six in the morning, the last thing you want is makeup on your face, so to not have a lot of it is refreshing.
HG: How has your beauty evolved since starting on Riverdale?
LR: Well my skin has definitely had its problems during filming because of all the makeup, so I definitely have learned the importance of skin care and keeping a good skin care routine. Being consistent with it, and using my exfoliator and using a really good, thick moisturizer at night. But also beauty-wise, just kind of less is more. I use very little foundation on a BeautyBlender, fill in my eyebrows, and maybe do a couple strokes of mascara, and then I'm good to go. I like a more natural look on myself anyway, so I don't like to really get all dolled up if I don't have to.
HG: It's interesting that you mentioned you started to have skin problems once you started the show, because it honestly doesn't look like that at all. Your skin looks flawless.
LR: Well, it's a lot of movie magic. I have a makeup artist doing my makeup all the time, and I do have beautiful lights on my face to kind of block out some of the blemishes. But I mean you're seeing my skin, you definitely are. It's not Photoshopped. I think maybe I blow my skin problems out of proportion a little bit, or I think it looks worse than it actually does. But yeah, that is my skin. I definitely don't have flawless skin, which I think is comforting for some people, but I try to take care of it as best I can.
HG: Speaking of your makeup on the show, I noticed that Betty always wears this baby pink lip product, can you tell us what that is?
LR: My natural lip color is pretty rosy pink, so a lot of the times we just use a lip color that matches my natural lips and I use a lip scrub when I need to, to help bring out my natural color. Then, I do a nice lip balm. Sometimes we use a lipstick, or lip gloss for special occasions. But honestly, I'm just matching my natural lip color.
What is the lip scrub you use?
LR: It's the Fresh Brown Sugar Lip Scrub.
HG: What are your go-to drugstore beauty products?
LR: Well, St. Ives, the scrub, the exfoliator is my favorite. I also love to use body washes, I love to smell myself all day long. As wonderful of a sentence as that was, it's true! I love to smell good, I love really beautiful-smelling lotions and St. Ives is kind of perfect for that. I use a lot of drugstore mascara, I'm pretty simple. I don't have too much of a crazy makeup collection — although I am kind of a makeup junkie, I love going to Sephora. But I love to be cheap, so, if it's cheap and it works, wonderful.
HG: What beauty product have you been using longer any other product?
LR: Probably St. Ives. My mom used to put the apricot scrub in my stocking as a stocking stuffer, so it's always been in my beauty routine.
HG: I've noticed that you have creative makeup looks on Instagram, some are inspired by Halloween costumes and others are just insane, are you secretly a makeup artist?
LR: Yeah, I have been for a while. I love to do special effects makeup just for fun, for Halloween. I definitely love October because it gives me a good excuse to do face beat and use my special effects makeup. A few years ago I watched some tutorials and I was like, "This looks fun, and interesting," so I took it upon myself to buy a bunch of random special effects makeup and experiment and that's how I got into it. Then, special effects slowly turned into more face paint and cosplay makeup. I definitely have a little makeup artist in me.
HG: What has been your favorite costume or makeup look that you've done?
LR: I did Lady Gaga's character from American Horror Story: Hotel, and that was really cool for me. I love the more glamorous kind of ones. I guess you could say maybe Harley Quinn isn't super glamorous, but I did do a Harley Quinn look earlier this year in kind of a cosplay situation. I love face paint.
HG: Do you have any plans of what or who you want to dress up as for Halloween this year?
LR: Not this year, I don't know where I'll be on Halloween. I don't even know what day Halloween is on, but, if I have the chance I would love to do something with one of my castmates, like a pair situation where we go together. But we'll see, I'm not sure yet. I have a little bit of time to brainstorm.
For more Riverdale updates, cosplay makeup look ideas, and beauty and fashion inspiration, you can follow Lili on Instagram.