Rita Wilson still loves "Forrest Gump" for one very sexy reason
Celebrity couple Rita Wilson and Tom Hanks met in the late 80's and have been falling for each other ever since. If math isn't your strong point (no shame there!) that's nearly three decades! NEARLY THREE DECADES. That's a huge accomplishment for people who have every bit of their personal lives scrutinized and intruded upon. Despite all that and overcoming multiple rumors of a divorce (including a retraction from The National Enquirer-wow!), Wilson and Hanks are definitely couple #goals.  And, in addition to the emotional attachment being there, Tom Hanks admits the physical spark lives on as well.
In fact, in an interview on  The Graham Norton show, Hanks admitted that Rita Wilson still loves watching Forrest Gump…for one particular reason.
While chatting with host Graham Norton and real life long distance runner/Olympian Mo Farah, Hanks discussed running for his role in the film, recalling that his "buttocks, as Forrest would say, were as firm as tinned hams."
"I must say even I think it's a beautiful thing to behold."
More like booty-ful, right? And, Rita Wilson agrees. Hanks said that she likes to watch the film when it's on cable to see that "fine Hanks' a**!" During the interview, Hanks also paid tribute to Farah by re-enacting one of the most recalled scenes of the film.
"Now you wouldn't believe me if I told you, but I could run like the wind blows. From that day on, if I was goin' somewhere, I was running."
Even though the film premiered over twenty years ago, Tom Hanks' role as Forrest Gump continues to be celebrated. What better way to celebrate his film career than getting a Presidential Medal of Freedom?!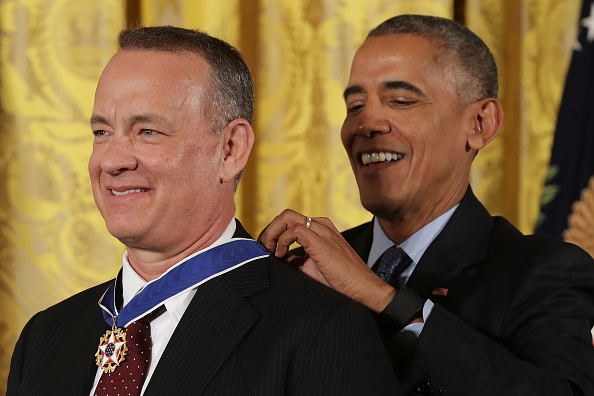 Unbelievable, right? Let's hope that he had his share of Dr. Pepper when he was there, too!
See the full interview from Graham Norton's show below, and we bet you'll agree with Rita's favorite scene by the end.
https://www.youtube.com/watch?v=_TYRa6vxxb0?feature=oembed
#RitaAndTom4Eva, guys.