Rita Ora wore a bathrobe and head towel on the red carpet, looked glam AF
File this under: things we wish we were wearing today.
Rita Ora wore a bathrobe the 2017 MTV European Music Awards on November 12th, and her outfit was everything. Not just because it looked amazing, even though it totally did, but also because it was the coziest, most creative, most unexpectedly chic thing we've seen in a while.
The pop star, actress, and host rocked a bathrobe at the star-studded event. No lace, sequins, or velvet here, folks!
Nix any mental images of threadbare or shapeless bathrobes that we usually reach for post-shower because Ora's take was way more fabulous.
Her bathrobe, for instance, was a pristine white number that somehow managed to fall like a couture gown: it came complete with a plunging neckline, a perfectly tied waist-cinching belt and a super-high slit that gave us serious Angelina Jolie flashbacks.
And not to mention, there were Ora's insanely fashion-forward accessories that completed the look. She paired the bathrobe with its most natural companion: a towel wrapped around her head. But here's where things take a turn for the seriously glamorous — she paired her comfy couture with $7.8 million worth of diamonds from Lorraine Schwartz, according to a report from People.
We. Are. Literally. Drooling.
https://www.instagram.com/p/BbaL_iwBAhC
The pop star shared a post-shower glam look on Instagram along with the caption "From the sofa, to the car, to the @mtvema red carpet." Yas, gurl!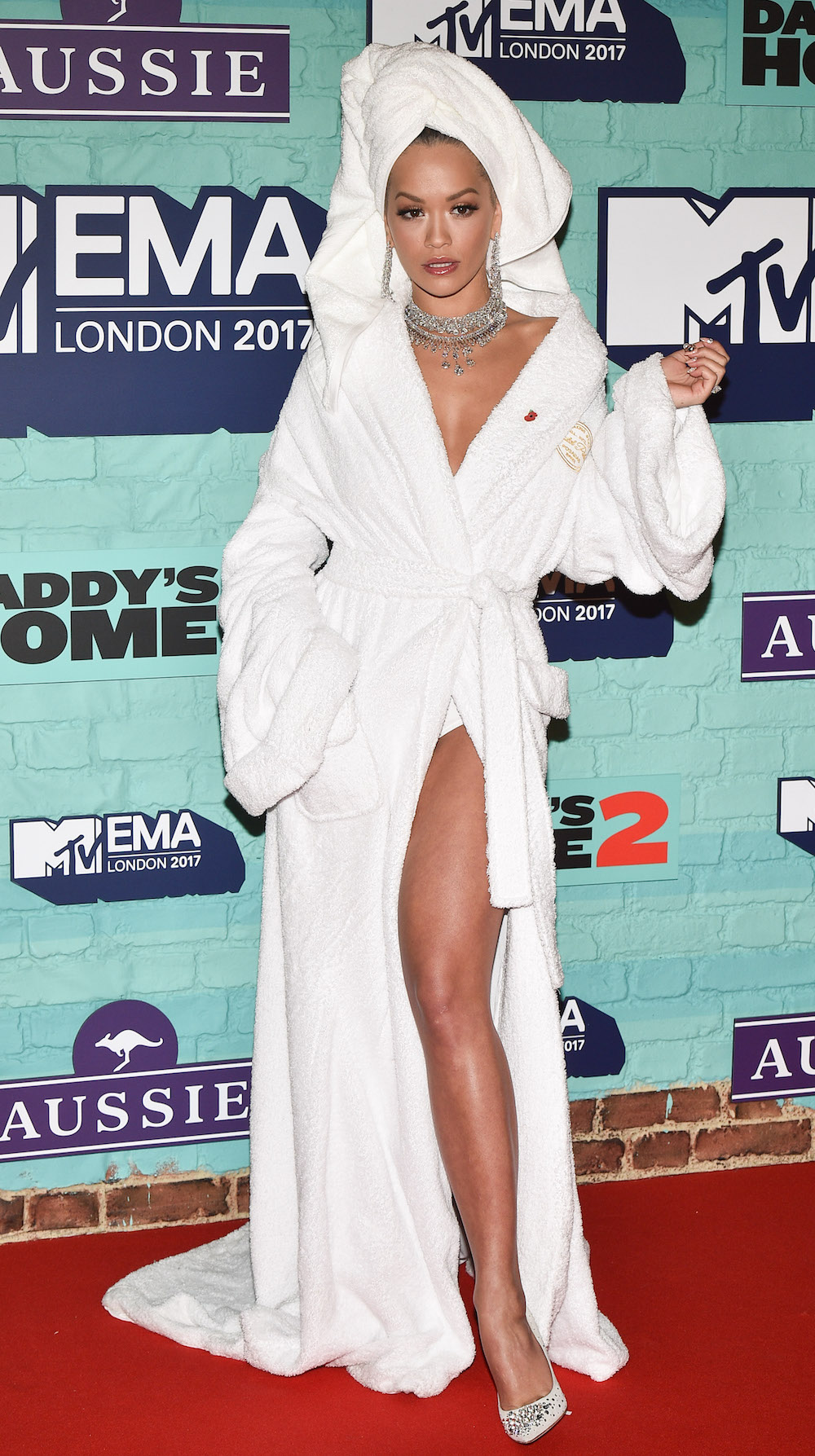 The look was eye-catching, for sure, and we love how creative Ora was in wearing it. For one thing, her bathrobe honestly looked insanely chic (how did she get it to drape so beautifully? Because when we wear bathrobes we look like…well, people who are lazy AF).
Ora's look was the perfect blend of all our favorite things: Cozy, comfortable, bold, daring, fresh, chic and just plain interesting. Seriously iconic, and something we won't soon forget.