Who is Rita Moreno, the woman who presented the SAG Lifetime Achievement Award?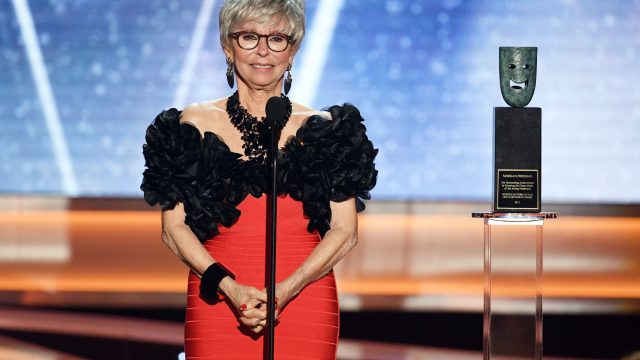 Tonight's Screen Actors Guild Awards had several incredible moments of solidarity and satisfaction, but a special highlight of the evening happened when Morgan Freeman received the Lifetime Achievement Award for his numerous contributions to the acting world. The award is well-deserved; after all, Freeman is one of the most legendary actors alive.
As for the woman who presented the award to him, that's Rita Moreno —  a member of Hollywood Royalty all her own.
Moreno's career has spanned decades. She is most notably an accomplished singer, dancer, and actor, along with being one of the very few who has EGOT'ed — she has an Emmy, Grammy, Oscar, and Tony. Among her accomplishments, Moreno has starred on Broadway, lent her voice to critically acclaimed albums, been featured on television, and has acted in some of the most iconic movies of the '50s and '60s. She also happens to be the first Hispanic actress to win Best Supporting Actress at the Academy Awards.
At the age of six, Moreno emigrated with her mother to New York City from Puerto Rico where she had her first experience with acting by dubbing Spanish-language versions of American films. Though she first started in theater soon after, her big break came when she was cast in Singing In The Rain and The King And I.
Later, Moreno starred as Anita in West Side Story. That performance earned Moreno an Oscar nomination, and she later went on to win the award, beating Judy Garland in the process. Moreno starred with Freeman in The Electric Company, an educational children's television show that ran in the '70s and has a cult-like following today.
Moreno herself is also a recipient of the SAG Lifetime Achievement Award. In 2014, she was honored for her long legacy of achievements by her fellow actors and presented the award by none other than Freeman — meaning that tonight's award presentation has brought the friends full circle.
Now in her 80s (!!), Moreno hasn't slowed down one bit. She's currently starring on Netflix's remake of One Day At A Time as the hysterical abuelita, Lydia.