These baby names are on the rise in 2018, and they're perfect for all you indecisive parents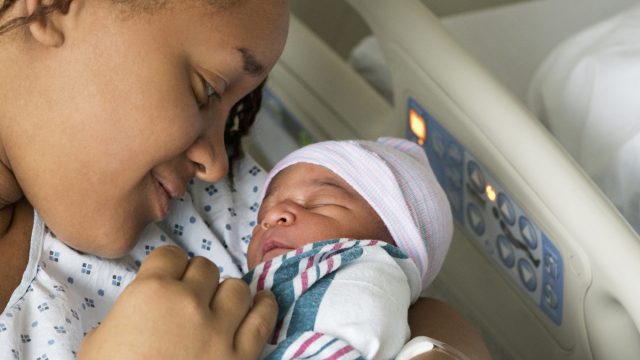 Picking the perfect name for a baby is no easy task — especially for parents who want to give their kids a unique, but not too unique, name. Apple, True, and Cricket are all great choices, but sometimes a more mainstream name isn't such a bad thing. Which is why this list of the fastest growing baby names of 2018 has us intrigued. The names are popular but by no means boring. And they're not the top names of the year, so not every kid will have them.
A lot of popular baby names lists are compiled using Social Security Administration data, but that data takes a while to process. So while useful, the SSA doesn't really know what names are catching on with your kid's future playmates right this very minute.
Names.org told HelloGiggles that it combines data on actual births every year with user interest on its site to predict what names are popular at the moment, and what names are trending upwards. So while the following names might not be popular in the sandbox this summer, prepare to hear them being used a lot more in years to come.
Some of the names are inspired by celeb babies, like Chrissy Teigen and John Legend's baby Luna, while others are classic nods to certain Pretty Little Liars characters. In other cases, they're just really great baby names.
For boys, according to Names.org, the most popular names of the next few years will be: 
Bryson
Mateo
Greyson
Theodore
Ezra
Asher
Leo
Elias
Lincoln
Leonardo
Roman
Easton
Josiah
Oliver
Carson
When it comes to more traditionally female names, the trendiest monikers for 2018 are: 
Luna
Adeline
Eliana
Aurora
Camila
Elena
Quinn
Hazel
Kinsley
Willow
Mila
Riley
Eleanor
Cora
Ruby
The fact remains that no name will ever be perfect. There will always be some hater — whether it's grandma or your BFF who swears that all men named Asher are terrible — who just doesn't get it. But as anyone with a less-than-popular (or all-too-popular) name can attest: it's all about how you work it.
Picking a name for traditional reasons is no less significant than picking a name just because you like the way it sounds, or whether you want your kid to be in good company by the time they hit middle school. In any case, it's not a name that makes a person, but all the love and personality they bring to it.