This is the best way to ring in the new year according to your zodiac sign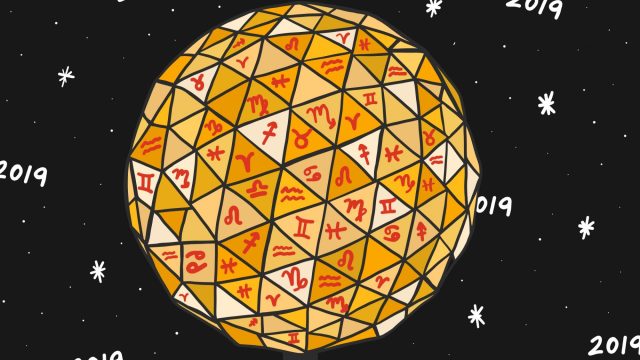 Okay, 2018 was rough. It was a wild year both on Earth and in the sky in every single sense of the word. This was the #YearOfRetrogrades after all. But we survived it. And now we get to send 2018 on its way with a big ol' "buh-bye!" and say hello to 2019—welcoming the promise of all that it might hold with a big…party? Netflix night? Romantic getaway?
The thing about New Year's Eve is that we put a lot of expectations on one night with little return on investment. There's nothing worse than splurging on a night out when all you really want to do is have a night in. Which is why it's so important to celebrate in a way that's most true to you. Enter: astrology. Since all zodiac signs are unique, it makes sense that we would want to close out 2018 in our own special (and personal) way.
If you're still not sure how you want to ring in the New Year, look no further than the stars.
ARIES
Aries likes to celebrate with loud music and a high-energy vibe. Your zest for life means dancing and rocking out to good tunes are your favorite things to do, so blowing out the year with a rager is all you.
TAURUS
Taurus are creatures of habit who love delicious comfort food and a bottle of fine wine. A Netflix night in with your squad complete with take-out and some grape therapy is your ideal night.
GEMINI
Geminis love to be challenged, so it's no surprise they're big fans of any type of board games. Add some awesome snacks and friends, and you'll have one fab game night to celebrate 2019.
CANCER
Cancer is the domestic goddess of the zodiac. Cooking up a Martha Stewart-like dinner party at her home is her jam. A five-course dinner party is the perfect night for you. And don't be afraid to make it a potluck.
LEO
"Where's the party at?" is basically Leo's catchphrase. A Leo doesn't care whether the party is at someone's house or in the club, she just wants to be on the dance floor and in the spotlight.
VIRGO
Virgos are very detailed-oriented and refined creatures. An intimate dinner at a five-star bistro surrounded by your friends, or with a partner, is where you feel most like yourself.
LIBRA
Highly cultured? Elegant? Patron of the arts? That's Libra, all right. You'll love to ring in the New Year at any type of gala that honors the arts—and where you can wear your prettiest dress.
SCORPIO
Since Scorpio embodies mystery, secrecy, and passion like no other, it's not really a surprise that you'd love to celebrate 2019 at a fierce costume party. If you can wear a sexy mask, even better.
SAGITTARIUS
As the globetrotter of the zodiac, Sagittarius would be most happy on New Year's anywhere but where you are. Whisking yourself and a loved one away on an exciting vacation is definitely your thing.
CAPRICORN
Capricorns are traditionalists who love the company of their nearest and dearest. Anything low-key that involves their squad is up their alley. Make it a pajama party at your place, complete with games, food, movies, and fun.
AQUARIUS
Aquarius loves helping people out, and knowing they're doing their part to make the world a better place. What better way to welcome in a New Year than volunteering at a homeless shelter or an organization that speaks to your big heart?
PISCES
Pisces loves feeling feelings, and doesn't mind their alone time to reconnect with themselves and their creativity. Ring in 2019 with a bubble bath, journaling, and/or working on a passion project that lights you up.
No matter what you do on December 31st, bbs, be true to you. Here's to a beautiful and magical 2019.