Rihanna's new music video is a love letter to her fans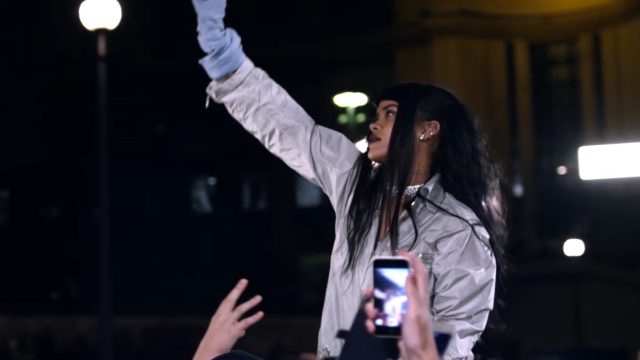 Every artist loves their fans. How could they not: These are the folks who support them, financially and in the forum of cultural relevance. But while every star has a fanbase, no one is as effusively affectionate for her ride-or-dies as Rihanna. Not only does she shoutout her Navy all the time on social media, but she loves getting up close and personal with people during meet-and-greets.
https://www.youtube.com/watch?v=UnSrgScjSE8?feature=oembed
Prefacing the moment she runs into the crowd with "This is the craziest thing I've ever done," Rihanna leaps into the crowd, assembled in Trocadero Square. Fresh off of a photoshoot for her eighth album Anti, she leaps into the arms of her fans and even crowd surfs on top of their shoulders and hands like a G. It's thrilling to watch, not just because it's Rihanna (though of course, oh my god it's RIHANNA!!!) but because these kinds of pure, unguarded fan interactions are less and less likely. (Mostly, and understandably, due to safety concerns for both the performer and their fans.)
That Rihanna found a way to interact with her fans with no filter, and then paid tribute to them in a music video? That's real, and we salute her for her daring decision. And to the fans who got to meet her — you've been immortalized in Rihanna history forever, you lucky, lucky dogs.