Rihanna's "Love on the Brain" just hit a HUGE music landmark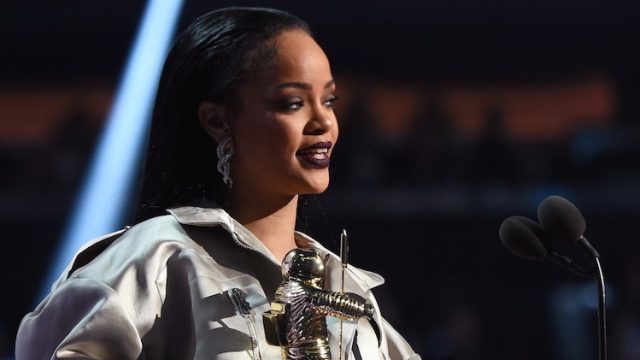 Okay, hold up. We knew that she was beyond amazing and everything, but this achievement is crazy. We just heard that Rihanna earned a landmark 30th Top 10 hit on Billboard's Hot 100 chart! The song that got her there is the super catchy "Love on the Brain" — one of our faves. This milestone puts her right next to the most legendary musical heavyweights ever, like um, MADONNA (she has 38) and THE BEATLES (they have 34).  And they're the only three acts to ever have achieved this. Damnnnnnn.
She was previously tied with the King of Pop himself, Michael Jackson, with 29 hits.
Phew…no biggie, just Rihanna being the mind-blowingly awesome human that she is. Now it's time to celebrate!
via giphyLet's take a moment to revisit Rihanna's epic performance of "Love on the Brain" at the 2016 Global Citizen Festival.
https://www.youtube.com/watch?v=yXvyJDqqQec?feature=oembed
Girl, that's what it looks like to SLAAAAAY. And when you remember all the other songs that Rihanna's been responsible for, it's no surprise that she's been so influential and successful in this industry. Maybe you haven't heard "Umbrella" in a while, but it'll get you up on your feet!
https://www.youtube.com/watch?v=CvBfHwUxHIk?feature=oembed
What about that little gem, "Don't Stop the Music"?
https://www.youtube.com/watch?v=yd8jh9QYfEs?feature=oembed
We could not be more freaking proud of Rihanna! Here's the list of all her 30 Billboard Hot 100 Top 10s, so you can literally spend all of today singing and dancing to her genius. Because that's what we're (already) doing.
via giphyLooking forward to many more years of music from Rihanna. Oh, not to mention more awesome style inspo. Let's not forget that her clothing line collaboration with Puma, FENTYXPUMA, went to Paris Fashion Week last year and was a major hit (of course).
YAS QUEEN! More than ever before.
via giphyYup, there's an abundance of awesomeness in the Rihanna camp.