Rihanna's Fenty show at Paris Fashion Week sent everyone to detention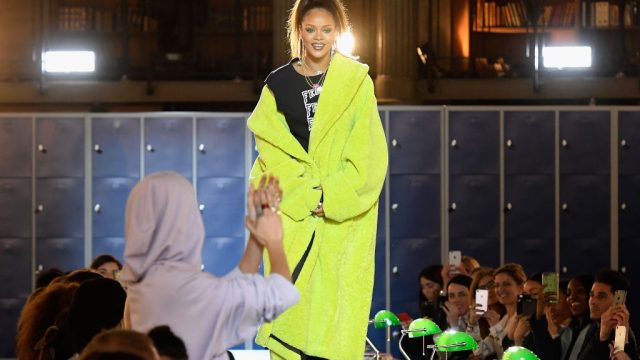 Rihanna doesn't mess around. For her Paris Fashion Week show, Rihanna took her Fenty Puma collection to detention, and it was a sight to behold. It was staged in the Bibliothèque Nationale de France, the national library of France. Although there are already a bazillion books there, Rihanna added more…and some lockers…and turned the long library tables (complete with those classic green desk lamps) into the runway.
There were "Fenty School" banners hanging from the ceiling, as if it were a gymnasium. Guests were invited with a "detention" card, and models waited their turn to walk not backstage, but chilling over the rafters in the stacks above the guests. It was The Breakfast Club, but MAJESTIC. The show opened with a children's chorus singing Radiohead's "Creep" to add to the "outcasts in detention feel."
The looks themselves were also "American high school" themed, but this is RiRi we're talking about. They were anything but lame and uniform. There was Catholic school girl plaid (although the hemlines were probably not approved by the headmistress). The plaid coats were puffy and oversized (just like Rihanna likes them) and the sweaters all had a "my cheerleader uniform still fits!" cut to them.
Rihanna took her bow in a bright yellow coat with pages from books (hopefully not real!) falling all around her.
https://www.instagram.com/p/BRT5zvhgpl0
Creep
Not-So-Preppy Plaid
Tearing It Up
People were feeling the school days vibe. According to Women's Wear Daily, Cara Delevigne showed up in the hoodie of your dreams and was goofing around with the books. Because of course she'd know how to dress for detention. Another guest, Chiara Ferragni, was overheard saying, "This place is magical. I don't know, it makes me feel like I'm in a Harry Potter movie."
Detention Buddies
The Whole Show
If only actual detention were this good.