Rihanna is serving Wonder Woman on the red carpet, and we consider this her official audition for the sequel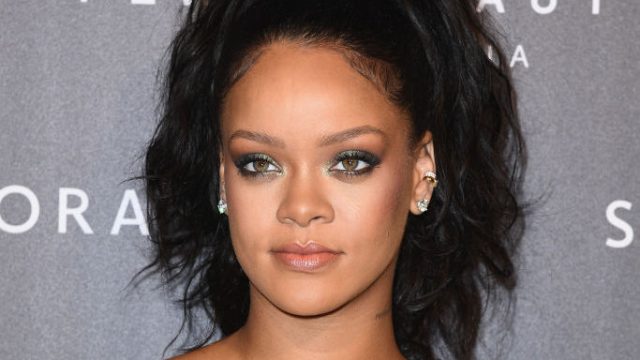 Okay, we have an idea and it just might break the internet: Rihanna plays herself in the next best superhero movie since Wonder Woman. It's simply called Rihanna and in it, Rihanna uses her superpower of song to woo evil into submission. Thoughts? We're ready for it — that green light. We only just thought of this idea after seeing Rihanna serve some serious Wonder Woman looks on the red carpet. And even if she doesn't get her own flick, we think RiRi would be great in the Wonder Woman sequel.
Rihanna served said looks at the Sephora premiere of her new Fenty Beauty summer line, "Beach, Please!," which will be available for purchase on April 6th. The star stunned in a black leather mini-dress from Versace's fall 2018 ready-to-wear collection. To emulate Fenty's new Body Lava luminizer (which, we're convinced, is actually just liquid gold) Rihanna sported a huge gold belt, gold bangles, and gold strappy heels.
The iconic bad gal posed in a power stance à la Gal Gadot in Wonder Woman and we instantly saw a new superhero before us — one who could spread the power of beauty, song, and rock a leather mini-dress.
Before the "Work" singer arrived to the event, she shared a video of herself on the Fenty Instagram account bedazzling her décolletage with Body Lava, part of the 2018 "Beach, Please!" collection.
https://www.instagram.com/p/BhMvmXEhm9g
Beach, please! We want to be you!
https://www.instagram.com/p/BhM-eXrBUcu
Even though we can't just magically become Rihanna, we can at least use her beauty products. "Beach, Please!" will drop tomorrow at Sephora and on the Fenty Beauty website.
And please get back to us ASAP regarding that movie idea. We think it could be huge.