Rihanna showed off Fenty Beauty's new holiday collection, and now we want it all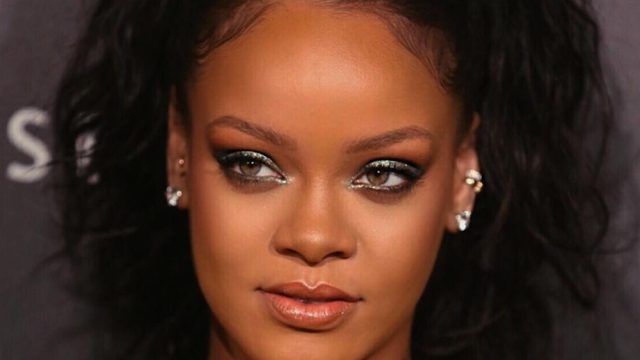 Rihanna keeps delighting us in unexpected ways thanks to the debut of her gorgeous new beauty brand. Last night's announcement of a Fenty Beauty Holiday collection left us all reeling with joy, and photos of Rihanna wearing the impending products has us positively salivating.
At this point, it's completely undeniable that the arrival of Fenty Beauty has rocked the makeup world. Rihanna has established herself as a force to be reckoned with, giving her legions of fans even more cause to love her.
Rihanna went out on the town in her new Fenty Beauty Holiday Collection makeup and left everyone floored.
That eyeshadow has us quaking in our boots with anticipation.
Rihanna's makeup artist, Priscilla Ono, used only Fenty Beauty products on the gorgeous singer. She's wearing Instant Retouch Primer; ProFiltr Foundation in 330; Matchstix in Almond and ProFiltr in 310 as concealer; MatchStix in Truffle for contour; MatchStix in Blonde and Killawatt in HustlaBaby and Moscow Mule for highlight; Supermoon and Spacesuit lipstick; and Nepturnt, Sublime, and Xtraterrestrial on her eyes.
Both the lipstick and eye makeup are part of the Fenty Beauty Holiday Collection.
It'll be available for purchase on October 13th.
It's pretty unbelievable that we'll be getting such a comprehensive holiday collection hot on the heels of the brand's initial launch. It includes an eyeshadow palette, lip glosses, lipsticks, a liquid liner, and more.
Don't you love the holographic, moody color scheme? It perfectly captures Rihanna's sexy, free-spirited, lustrous energy while being extra special for the holidays. Be ready come October 13th, because your girl's got your holiday looks covered.