Fenty Beauty's Fairy Bomb glitter puff is a throwback to this early 2000s makeup trend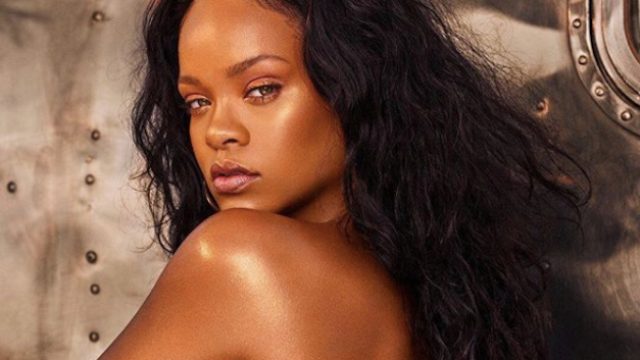 When was the last time you invested in a good, old-fashioned beauty puff? Thanks to Rihanna, we're all ready to slather ourselves in Fenty Beauty's upcoming Body Lava luminizer and now the beauty mogul teased another body makeup product: the Fenty Beauty Fairy Bomb, a dust puff. It has us drooling. It's as gorgeous as you could possibly imagine, and it's just enough glitter to make you ~shine bright like a diamond.~ (We couldn't resist.)
It's been a minute since we had a serious beauty puff moment, but with Rihanna's blessing, we are fully ready to jump on this train. We only got a quick glimpse of Fenty Beauty's Fairy Bomb Pom Pom, but we can tell that it's going to be love at first sight. The luxurious, giant puff deposits beautiful glimmer powder wherever your heart desires. In a mini tutorial on Instagram Stories, Rihanna used the new product on her shoulders and décolletage, and she looked dazzling (pun intended).
The Body Lava luminizers and the Fairy Bomb puff are set to drop on April 6th. You can shop them online on Fenty's site and Sephora's site (and stores). You'll also be able to get them at Harvey Nichols' stores and at Sephora in JCPenney stores.
And now, the wait begins for the release of Fenty Beauty's Fairy Bomb.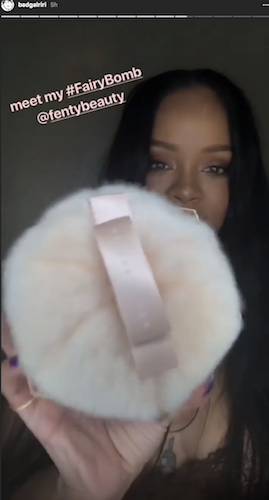 We love adding a touch of that old-school glamour, don't you? Everyone in our grandmothers' generation was devoted to the beauty puff — it was considered to be the best way to deposit luxurious powder on one's face and body. We even remember using Benefit's Kitten Classic shimmer puff back in the early aughts (that's when body glitter pom poms were super trendy). We love that this throwback makeup product from the early 2000s is making a comeback. (Side note: Viktor and Rolf currently sell a body shimmer puff, you can't wait for Fenty's launch.)
Fenty Beauty keeps surprising us with its new releases, and the addition of the Fairy Bomb to the repertoire can only mean that glamour is here to stay.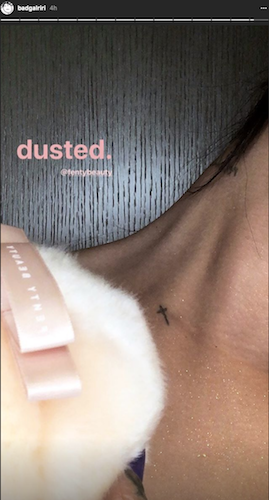 As if that's not exciting enough, Rihanna is also coming out with a new Kabuki brush, so your set will be complete.
Set your alarms and mark your calendars — this will be the perfect accessory for your vanity and it look positively heavenly on your skin.