Rihanna teased two electrifying lipstick shades that might be Fenty Beauty's next launch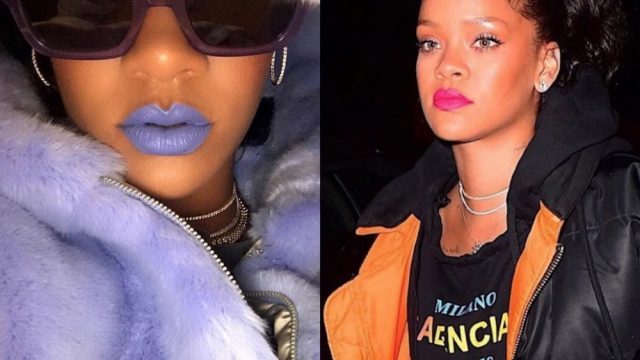 It's fair to say that Rihanna may have single-handedly saved 2017 with the release of her beauty brand, Fenty Beauty. Every product has been a revelation, and the fact that Rihanna has been teasing Fenty Beauty lipsticks in vibrant new shades has us thrilled.
Last week we got a look at a gorgeous navy blue lipstick, and now Rihanna has taken to social media once again to give us a glimpse of two new shades. They'll either join Stunna as part of the Lip Paint collection, or the blue shade could be part of the StarLit Hyper Glitz Lipstick collection.
Either way, we are totally smitten. One is a delightful powder baby blue with a hint of lavender and the other is a bright candy pink. Both look perfect for all our snow bunny looks, don't you think?
Fenty Beauty's M.O. has been to slowly roll out new products that are part of a collection as opposed to dropping the whole thing at once. It's certainly been effective at keeping us on the edge of our seats.
So now the question is: How long will Rihanna keep us in suspense this time?
Fingers crossed the new Fenty Beauty lipsticks make their debut before the holiday season ends.
Wouldn't you love to hit the slopes in that lipstick/fur coat combo? Her glamour is truly unparalleled.
There's nothing like a sweet and sexy pink lipstick when there's a chill in the air. It'll match your rosy cheeks!
We love it paired with her simple eye makeup and ultra-cool outfit.
Keep those eyes peeled for these and any new shades our queen might soon be bestowing upon her subjects. If she's going out of her way to give us a look at so many new colors, we sincerely hope it means that there's a whole lot being launched very soon.