Rihanna and her sparkly hip flask had the most relatable moments from the Grammys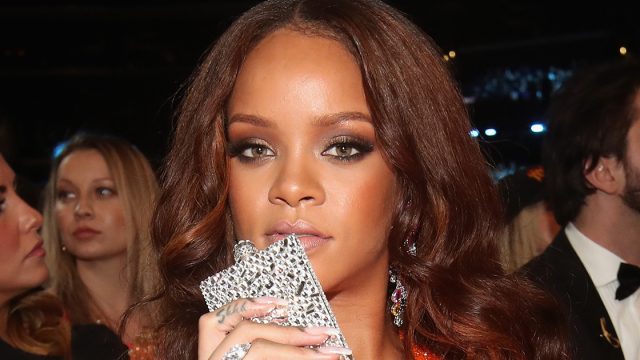 We've all had those moments where we've thought about slipping a hip flask into an event to help soothe our nerves. Of course, we never expected to see Rihanna grasping a sparkly hip flask at last night's Grammy Awards, but it happened and it's absolutely hilarious.
On Sunday night (February 12th) we got our lives watching the 2017 Grammy Awards. Whether it was enjoying Katy Perry's performance of "Chained To The Rhythm," Beyoncé's EPIC Lemonade mini-medley, Demi Lovato's Bee Gees tribute, or Adele's stunning George Michale tribute, the performances were out of this world.
Similarly, there were more dramatic and hilarious moments than we could count. CeeLo Green rocked up at the awards dressed like a giant Ferrero Rocher, and Adele gave a weepy apology to Beyoncé for winning the prestigious Album of the Year award.
However, the most relatable moments from last night's Grammys came from Rihanna and her sparkly hip flask.
Now, the Grammys are a dry affair, meaning that there's no alcohol served during the ceremony. However, this is BadGal RiRi we're talking about, and the singer decided to flout the rules by sneaking in her own hip flask. Of course, she was captured on camera sneakily sipping from it, and it has the internet relating HARD. false false false
https://twitter.com/udfredirect/status/830983051194822656
false
false
Even Rihanna herself noted how people on the internet were finding her hip flask absolutely HILARIOUS. In fact, she shared a pic of her and the flask on Instagram, and we just can't get enough of it.
Ri and her hip flask are now officially our OTP.
Seriously, don't ever change RiRi!