Rihanna's Savage x Fenty Valentine's Day lingerie collection is a love letter to women and their bodies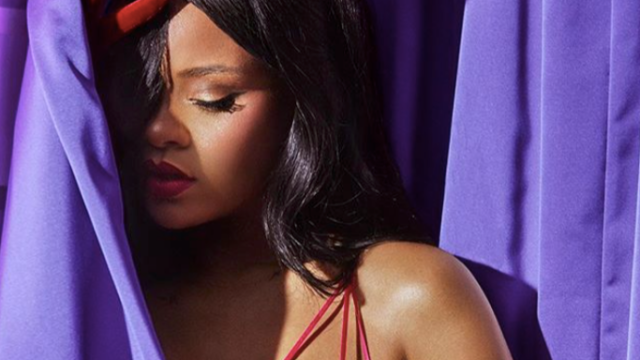 Rihanna's Savage x Fenty is the lingerie line for millennials who want to feel comfortable in their own skin. While other lingerie retailers deal in cute or sexy, Rihanna ensures that her collections speak to women of all shapes and sizes. Savage x Fenty just released a line of thematic and festive Valentine's Day undergarments that aren't cheesy whatsoever—and our wallets are already crying.
Let's be real, red underwear is a whole thing. Satin is a whole thing. Hearts on your underwear is a whole thing. There's a fine line between sexy Valentine's Day lingerie and full-on parody. Rihanna knows this, so she delivered a "Savage Kinda Love" collection that is almost entirely pink and red hearts and yet still damn cool.
The Savage x Fenty V-Day collection drops today, January 9th, 2018, and includes mesh bodysuits with strategically placed hearts, bralettes with heart appliqués, and cheeky underwear with subtle lip illustrations. Rihanna also included some BDSM-lite accessories like red riding crops and purple marabou feather handcuffs.
https://www.instagram.com/p/BsYiWOxFeF8
https://www.instagram.com/p/BsUJftVF3wz
https://www.instagram.com/p/BsXEzl7F5qU
"Lingerie is not just about exploiting the female body, it's about celebrating it and that's what Savage x is all about, Rihanna told Vogue about the collection. "Savage to me is such a powerful word. Especially for women, you know. Women are usually looked at as weak and needy and Savage is just that different woman. It is the opposite of that, she powerful, she's in charge, and she's taking ownership of all the choices she makes.
Bras range in size from 32A to 44DD and underwear ranges from XS to 3X. You can shop the entire collection now on Savage x Fenty online.