Rihanna's Savage X Fenty runway show was inclusive, body positive, and pure badass—just like RiRi herself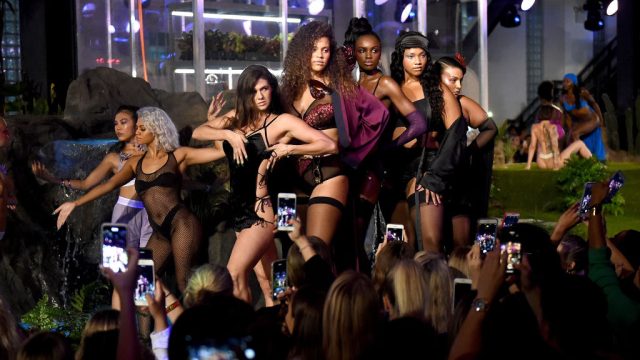 On Wednesday, September 12th, 2018, Rihanna closed out New York Fashion Week with her Savage x Fenty lingerie collection. The general public was so interested in what she might do that Rihanna live-streamed her entire show on YouTube, and Twitter is still going crazy for Rihanna's diverse, inclusive, and body-positive show.
Instead of a dozen traditional NYFW models, there were curvy models, there were dancers, there were two pregnant women, there were Hadids, there were pedestrians, but more importantly, there were bodies of every shape and size.
Besides the body-diversity, the show itself was innovative and fresh. It was part runway show, part interpretive dance, part performance art piece, and it all culminated in the models holding hands while the boss lady (Rihanna) took the final walk. Mind you, this is Rihanna's first NYFW collection that isn't a collaboration with Puma—meaning, she did all this genius by herself.
https://www.youtube.com/watch?v=MZEsHLfF9HY?start=941&feature=oembed
false
false
Even better yet, all the lingerie seen in the show is already available for purchase online.
There is one caveat: Despite the array of bodies in the show, most cup sizes start at 32A and stop at 44DD and the bralettes start at XS and stop at 3X. Some buyers online were dismayed to find the sizing range to be comparable to most intimates brands.
Hopefully the sizing selection will expand in future collections, but the inclusive casting in her runway performance sent a powerful message to fans, to the world, and especially to other brands and retailers that this is what women's bodies actually look like. Thank you, RiRi.