Rihanna got real about her relationship status with Drake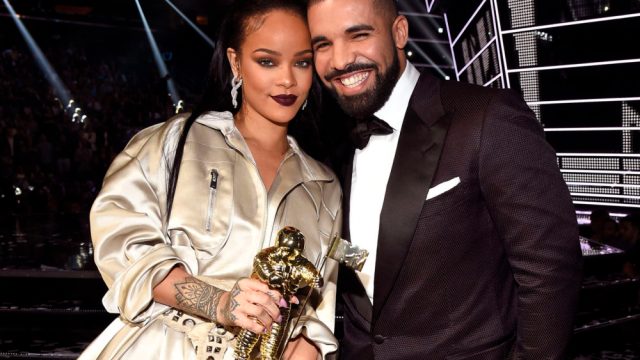 In case you need a refresher, less than two years ago, Drake got on stage at the MTV Video Music Awards to declare his love for Rihanna in front of the whole world. Now, in a new interview with Vogue, the "Wild Thoughts" singer shared what she really thought about that famous speech, as well as where she and Drake stand with each other these days.
"The VMAs is such a fan-focused awards show, so having that energy around me, and knowing the people who had received the award in the past, made it feel like a big deal," she said. "Waiting through that speech was probably the most uncomfortable part. I don't like too many compliments; I don't like to be put on blast."
When asked about the status of her relationship with Drake now, she replied, "We don't have a friendship now, but we're not enemies either. It is what it is."
Following Drake's gushy, viral speech about how Rihanna was "someone I've been in love with since I was 22 years old," there were reports that the two were dating. But dating rumors soon dwindled down after Rihanna was spotted getting cozy with billionaire businessman Hassan Jameel last year. Though she wouldn't directly name her new beau in the interview, Rihanna did acknowledge that she has an important person in her life.
"I used to feel guilty about taking personal time, but I also think I never met someone who was worth it before, she told the magazine."
As much as we were rooting for Drake and Rihanna to make it work as a couple, we're also glad Rihanna has clearly found someone who makes her happy. And Drake — there are other fish in the sea, friend (though, admittedly, none like RiRi).