Rihanna's plunging pink jumpsuit is inspiring us to try the monochrome trend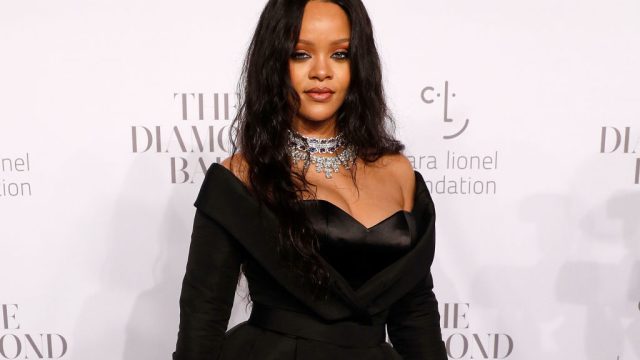 With autumn only a few days away, it's time to start our fall fashion planning. A new season is the perfect time to try something new with our style, whether it's by wearing a creative color or by rocking a fresh silhouette. And leave it to Rihanna to inspire us with both of these, thanks to her pink jumpsuit that's encouraging us to go for a monochrome look this season.
Rihanna's ensemble is as sweet as strawberry shortcake, but with an edge. Thanks to the low-rise top, cutout accents, and wide leg, this is as unexpected as it is fashionable.
While our go-to monochrome look may be black on black, we can't deny that we've been thinking about cheating on this trusty combo. Rihanna's monochrome pink look is only helping this case.
Not only did this jumpsuit make a statement, but RiRi accessorized it to perfection and with plenty more pink — proving that monochrome may be the look this fall. With a fuzzy pink bag and matching pink Gucci heeled sandals, Rihanna took this outfit to new heights.
Even her makeup coordinates with the rest of the look, which supports our theory that Rihanna is actually Aphrodite incarnate. With pink shadow, bronzed cheeks, and the perfect cherry red pout, the singer looks stunning and totally color-coordinated. She finished off the ensemble with statement-making gold hoops and her long hair in loose curls.
This season, we'll be wearing all our pinks together. And if anyone gives us any trouble, we'll just pull up the receipts. It's Rihanna law after all.