Rihanna's new liquid eyeliner shade is named after one of her most iconic clapbacks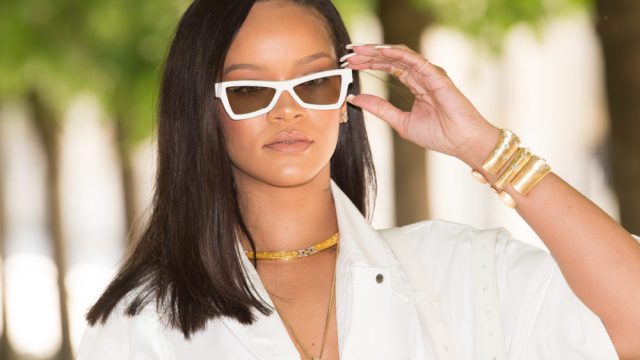 Ever since launching Fenty Beauty in 2017, Rihanna continually blesses us with killer products. Each new launch makes us wonder how we ever survived without queen Rih's beauty wisdom. So, of course, we freaked the eff out earlier this week when Rihanna teased Fenty Beauty's newest products, including the line's first-ever liquid eyeliner, aptly titled Flyliner.
She gave few details about how many shades will ultimatey be coming our way, but some eagle-eyed Fenty fans discovered that for now, Flyliner will come in one shade, a "true satin black," called "Cuz I'm Black." In case you need a refresher, "Cuz I'm Black" just so happens to be a nod to one of Rihanna's most iconic internet clapbacks.
Back in 2011, a Twitter user (rudely and offensively) questioned why Rihanna's hair looked "so nappy" in the music video for her song "Man Down." And Rihanna had the perfect response, shutting the ignorant commenter down with four simple words: "Cuz I'm black bitch!!!!"
Can we get a yas queen?!
We don't know what we love more — that Rihanna isn't afraid to keep trolls in check, or that she referenced her own clapback in a Fenty Beauty collection. And yes, RiRi commented about this latest revelation on Twitter:
Fenty's Flyliner Liquid Eyeliner in "Cuz I'm Black" will be released on July 6th, and the site describes it as "hyper-saturated, water-resistant liquid eyeliner" with an "innovative flex" felt tip and a triangle shape for easy grip and application. It's priced at $20.
We've already added it to our wish lists, and can't wait to see if Rihanna will expand the line to include other eyeliner shades with equally epic names. We 're bowing  down to the queen of clapbacks.