Rihanna's last collection with Manolo Blahnik is called "So Stoned," because of course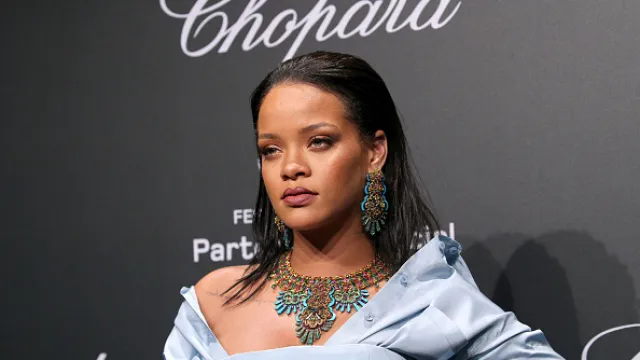 What does it take to get stoned with Rihanna? Well, depending on what you're looking for, anywhere from $1,265 to $2,325 (not including tax). The singer and icon's latest collection with Manolo Blahnik drops on July 6th, and it promises to be the most luxurious one yet. Entitled "So Stoned," Rihanna's collection features four different styles of shoe, all dripping in Swarovski crystals with lucite heels.
If you caught the performer's and DJ Khaled's "Wild Thoughts" video, then you've already seen the shoes. Because of course Rihanna would wear her own pieces in her video. She's a queen who does what she wants.
https://www.youtube.com/watch?v=fyaI4-5849w?feature=oembed
The collection is the third and final collaboration between Rihanna and Manolo Blahnik. It features "Posison Ivy," a knee-high gladiator sandal with clear straps, and silver and green crystals; "Spice," a clear slip-on sandal with ruby-red jewels on the strap; "Bajan Princess," a stiletto-style heel with a mid-foot clear strap featuring ocean blue jewels; and "Purple Chalice," a strappy heel with hanging silver and purple jewels.
Each of these shoes has Rihanna's name all over them — they're glamorous, unexpected, and sexy.
If you're not sure how you'd pull off such decedent heels, let Riri inspire you! A vintage tee or t-shirt dress would give the ultimate high-low effect, with just the right amount of kitsch.
You can even pair these with a structured white top and bleached jeans for a laidback chic look that lets your shoes do the talking, or wear your best fur with your shoes like the royalty you are. Regardless of how you wear them, we're sure you'll be feeling like bad girl Riri in no time. After all, that's just what happens when you're "So Stoned."