Rihanna just won the election so hard with this meta Hillary Clinton shirt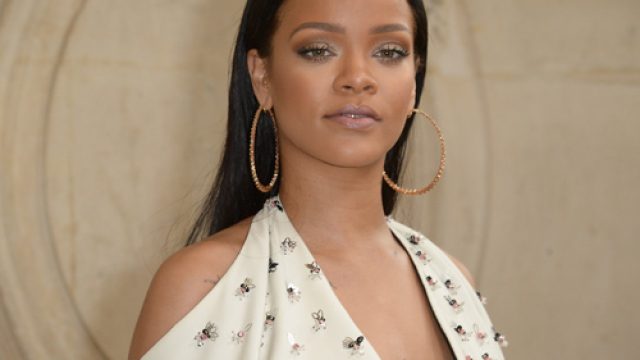 With the end of the 2016 presidential election upon us, everyone seems to be getting into the Election Day spirit. Singer, Rihanna just slayed the election game with an awesome meta Hillary Clinton shirt and we can't get over it.
Today marks the last day of the election, and as people are heading to the polls and casting their votes rocking pantsuits in honor of Clinton, the "Needed Me" singer paid a little tribute to the first female presidential candidate and herself at the same time with a funny fashion statement that just makes us love RiRi more.
On Tuesday, Rihanna was spotted on the set of her upcoming movie, Ocean's Eight, in New York City wearing a Hillary Clinton-inspired tee.
Well, actually she was wearing a shirt of herself, wearing a Clinton tee and it's so meta it hurts.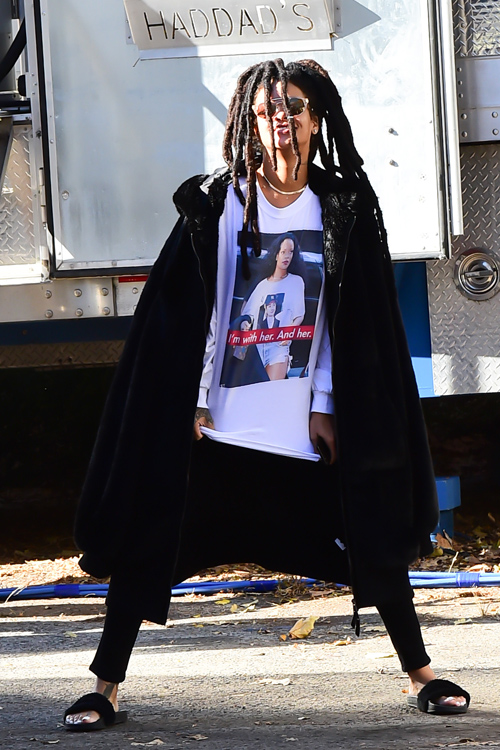 If you're thinking, 'that tee looks familiar' then you are totally right!
The 28-year-old singer previously rocked a Clinton tee where the politician was wearing a Yankees baseball cap, looking sassy, in early October and she's not the only one.
Lena Dunham also donned a version of this Clinton-printed T-Shirt that was only available for a limited time by TRAPVILLA in order to support the candidate. The Girls creator however, was a step ahead wearing a shirt of Rihanna wearing the baseball shirt. Both ladies looked fierce in their tees, but clearly Rihanna has now taken it one step further.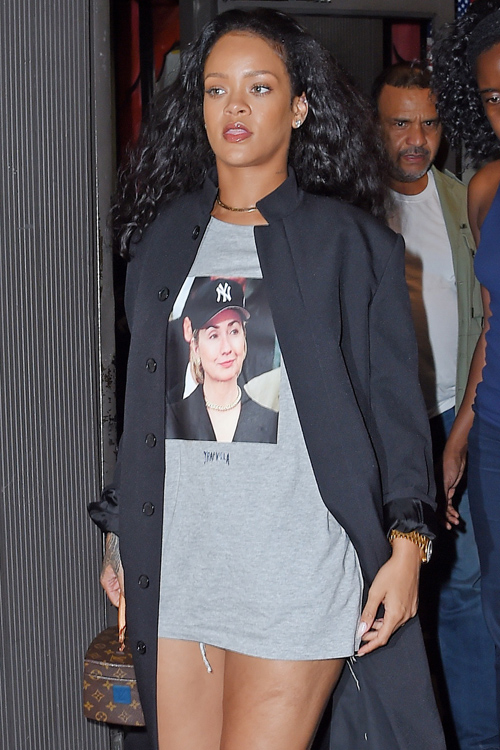 After being photographed wearing the Clinton baseball hat shirt, the geniuses at Base DTLA created this sweater with RiRi on it wearing that political shirt and of course the "Work" singer had to wear it while working on Election Day.
The singer/actress kept the rest of her look casual, wearing fluffy slippers, an oversized coat and leggings and a chic pair of Sunday Somewhere sunglasses.
The shirt funnily reads, "I'm with her. And her," and we are totally on board. Now if only we had one of these shirts to wear while heading to the polls to cast our vote, we'd be set.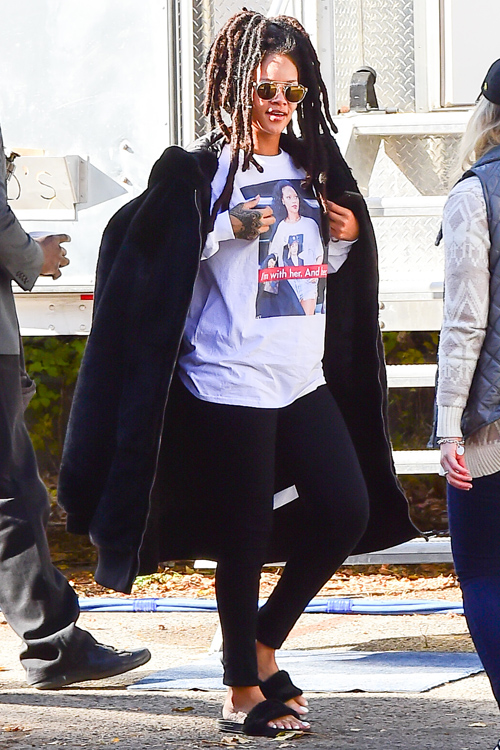 What do you think of Rihanna's new Clinton shirt? Would you wear one?