Rihanna took the glitter trend to a whole new level at a Coachella party last night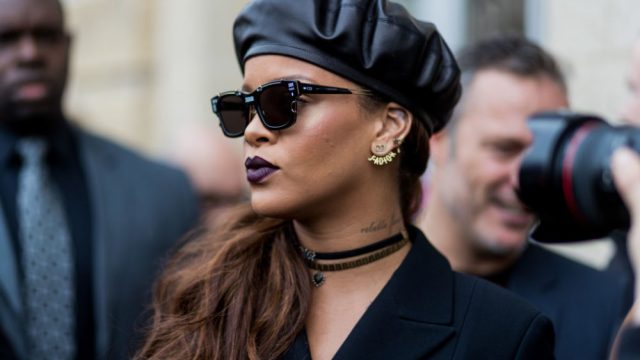 Western-inspired style is often the go-to fashion swag for Coachella, but Rihanna's Gucci glitter bodysuit just may be leading a whole new trend. Seriously…what else would you expect from the fashion goddess? The bodysuit totally shook the industry during its spring debut in the Gucci Fall 2017 runway show. And RiRi obviously couldn't get enough of the look, because she donned the entire ensemble at Coachella.
Leave the feathers, brown suede, and fringe at home, because glitter is the new Coachella style go-to.
Leave it to Rihanna to inspire us to step outside the box. The entertainer is one of a kind, and we wouldn't have it any other way.
Instead of dousing herself in glitter, RiRi donned a bodysuit covered in the epicness under her clothes.
And it came with an awesome headpiece, too. Shut. It. Down.
She's clearly a fan of glitter. Remember her sheer, crystal gown she rocked to the 2014 CFDA Awards? It was quite a showstopper, indeed. The Josephine Baker-inspired frock was everything and then some.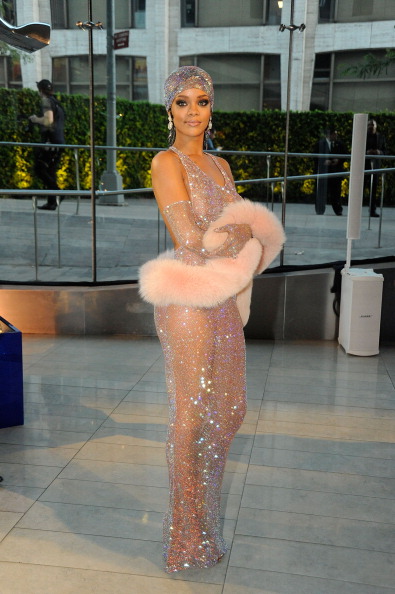 And RiRi showed us how to perfectly dress the glitter down this weekend. It's the epitome of "shining bright like a diamond."
She's perfect, we tell you. Perfect. We can't think of a single person who could make this fashion statement look so effortlessly cool. Especially at a music festival in the desert.
How much does the Gucci crystal bodysuit retail for? We're thinking someone's college tuition. But as far as we're concerned, crystal unitards are the new black. And believe us when we say that if we had it in our possession, we'd rock it every day, and with everything. There's no doubt in our mind that we'd get our money's worth.