Rihanna gave a moving speech at Harvard, and it was like an IRL Elle Woods moment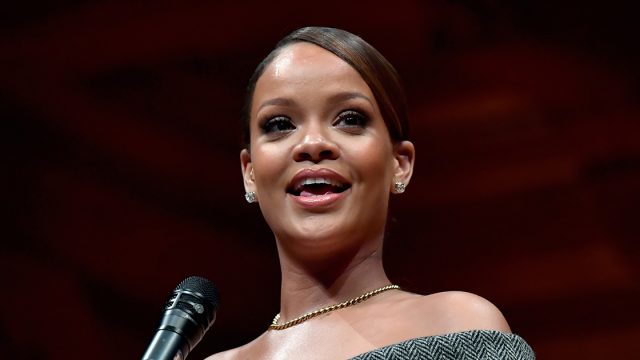 It looks like our elemental queen Rihanna gave a speech at Harvard, and had an IRL Elle Woods moment in the process!
Fresh off another career moment with her latest single "Love On The Brain," earlier this month it was revealed that Rihanna had been selected by Harvard University to receive their Humanitarian of the Year Award, and we couldn't have been happier for her!
"Rihanna has charitably built a state-of- the-art center for oncology and nuclear medicine to diagnose and treat breast cancer at the Queen Elizabeth Hospital in Bridgetown, Barbados," said the Harvard Foundation's director, S. Allen Counter, speaking about the decision to award RiRi with the prestigious Peter J. Gomes Humanitarian Award.
Well, yesterday (February 28th) Rihanna travelled to Boston to visit the Harvard campus to accept her award, and the whole thing was so iconic and moving.
Taking the stage at Harvard, RiRi said that she was "humbled" by being chosen to receive the award, adding, "To be acknowledged at this magnitude, for something that, in truth, I've never wanted credit for."
Firstly, however, Rihanna opened her speech in the most Rihanna way possible, and it's like she's living her own IRL Elle Woods life.
"So, I made it to Harvard, she said, sassily flicking her hair. "Never thought I'd be able to say that in my life, but it feels good.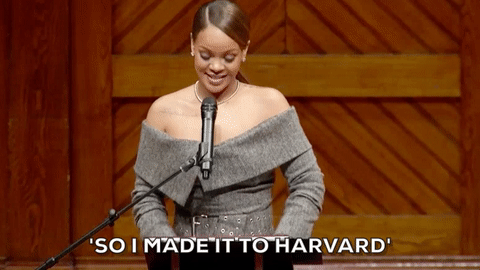 Continuing, Rih, who has also worked with the Clara Lionel Foundation, the Global Citizen Project, and UNICEF, then gave a moving and inspirational speech about how anyone in the world can make a difference. Explaining how she was growing up she would watch commercials about giving to charity, she would think that when she grew up she'd try and save all the kids in the world. "I just didn't know I would be in a position to do that by the time I was a teenager," she added, laughing.
"All you need to do is help one person, expecting nothing in return. To me, that is a humanitarian," she said. "People make it too hard, and what that little girl watching those commercials didn't know is that you don't have to be rich to be a humanitarian, you don't have to be rich to help somebody. You don't have to be famous, you don't even have to be college educated. But it starts with your neighbor. The person sitting next to you... "You just do whatever you can to help in any way that you can."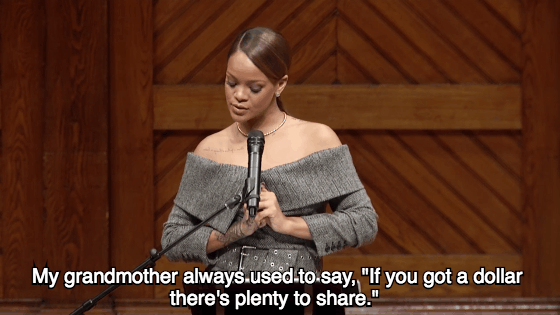 Watch Rihanna's full speech below (it starts at the 1:16:00 mark).
https://www.youtube.com/watch?v=hbJvOXdtHLs?feature=oembed
Despite having previously spoken about how she's resistant to call herself a role model, we're so inspired by people like Rihanna using their platform to help spread messages of charity and giving into the world. As she says, just helping one person is all it takes to make the world a better place.