Rihanna's foundation donated $5 million to fight coronavirus across the globe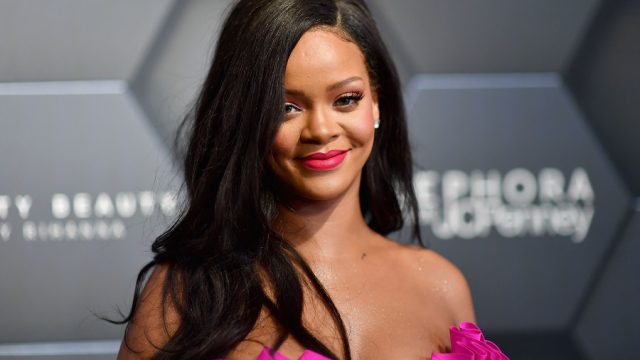 Over the weekend, the Clara Lionel Foundation, which was founded by Rihanna in 2012, vowed to donate $5 million toward the fight against coronavirus (COVID-19). CLF, named after Rihanna's grandparents, supports and funds "groundbreaking and effective education and emergency response programs" around the world. And its latest effort to combat coronavirus involves quelling the spread and helping people affected by the virus and by quarantine.
"It doesn't matter who you are or where you're from, this pandemic will affect us all," the Clara Lionel Foundation's press release reads.
"And for the world's most vulnerable, the worst may be yet to come," the release continues. "That's why Clara Lionel Foundation has provided $5 million to the following organizations to immediately mobilize a broad response working with on-the-ground partners that include Direct Relief, Feeding America, Partners in Health, The World Health Organization's COVID-19 Solidarity Response Fund, the International Rescue Committee, and others."
According to the press release, the donated funds will support local food banks that serve at-risk and elderly communities throughout the U.S.; acceleration of testing and care in Haiti, Malawi, and other Native communities; and the distribution of critical respiratory supplies.
https://www.instagram.com/p/B9_yNbUpDsq
CLF will also put funds toward training healthcare workers, virus prevention and containment, the production of protective equipment for health workers and diagnostic labs, the establishment and upkeep of intensive care units, and the "acceleration of the development of vaccines and other therapies."
"Protecting our frontline health workers and marginalized communities around the world requires getting ahead of it FAST," CLF's statement reads. "The time to act is now."
You can help Rihanna and CLF by donating to the COVID-19 relief efforts here.
Rihanna and CLF aren't alone in the fight against coronavirus. Ciara and Russell Wilson partnered with Seattle-based food bank Food Lifeline to donate one million meals to those affected by the pandemic in the area.
https://www.instagram.com/p/B92xv75Hdw4
And Blake Lively and husband Ryan Reynolds are donating $1 million to Feeding America and Food Banks Canada.
https://www.instagram.com/p/B90GOb6pgMy
Lady Gaga's Haus Laboratories also pledged to donate "20% of our profits from last week's sales on Hauslabs.com to local food banks (@lafoodbank & @foodbank4nyc) in order to get food to those affected by the closing of schools and other places that offer this critical resource."
https://www.instagram.com/p/B9z5hmdl0wI
Get involved in your area by donating funds or volunteering you time to local charities, food banks, or healthcare services. Now is the time to pull together as a global community and put each other first.
As information about the coronavirus pandemic rapidly changes, HelloGiggles is committed to providing accurate and helpful coverage to our readers. As such, some of the information in this story may have changed after publication. For the latest on COVID-19, we encourage you to use online resources from CDC, WHO, and local public health departments, and visit our coronavirus hub.