Did Forever 21 just copy Rihanna's Fenty X Puma slider sandals?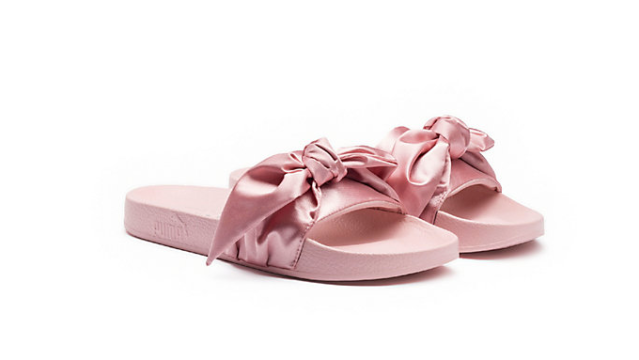 When Rihanna dropped her Fenty X Puma shoe collection earlier this month, we knew it was bound to set the tone for summer shoe trends. Among her batch of army green and pastel pink boots and sneakers, there's a pair of pool-perfect sandals with RiRi's signature bow stitched across the top, and they're gorgeous enough to be the stuff of Carrie Bradshaw's dreams.
Basically, these pretty pink sandals were bound to spark some inspiration. However, Twitter users are calling out Forever 21 for dropping their own pink bow-festooned sandal that's strikingly similar to Rihanna's.
Just take a look at the two similar shoes side-by-side for yourself. false
While they're not *exactly* identical, there's no denying that the resemblance is strong. false
One savvy user pointed out that Topshop has a very similar shoe currently in stores as well. false
While totally innocent design copying happens from time to time, Twitter users are quick to call out the two fan-favorite retailers for supposedly duping Rihanna's smash-hit Puma sliders.
Although fashion copyright and trademark infringement can be hard to prove in court, such lawsuits make the news all the time. Neither Puma nor Rihanna's camp have made a peep about the allegations, however. This wouldn't be the first time Forever 21 has been in hot water for allegedly knocking off designs (or Topshop's first time getting busted for using Rihanna's ideas without her permission). false
Rihanna's Puma sliders are currently available (*but* sold out in every size but 12 and 13) for $90, while Forever 21's similar shoes are going for $25 and Topshop's are selling at $30 a pop.
Like we said, no official statements have been released from any of the camps at press time.