Rihanna can't stop wearing Fenty Beauty's new red lip paint, and just take our money now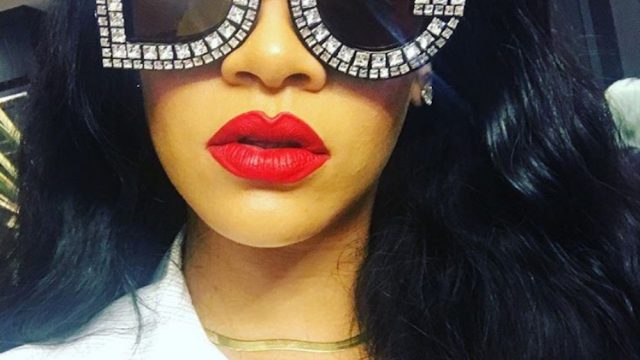 Rihanna gave us a little weekend pick me up when she announced the launch of Fenty Beauty's Lip Paint just a few days back.
This heart-stopping red liquid lipstick called Stunna is just about the most luscious red lip we've ever seen. Riri agrees, because she can't stop wearing this luxurious lipstick and it's got us itching to get our hands on it ourselves.
Like everything else that has debuted from Fenty Beauty, this liquid lipstick appears to be made of the highest quality. All these photos indicate that an ultra-pigmented, rich, creamy, and smooth new lip color is about to land.
It'll be here just in time for the holidays and thank goodness for that. Can't you just see yourself swanning about your impending holiday parties in this bold new red?
Since the arrival of the Fenty Beauty Holiday Collection, the brand has several lip products to its name. Its glosses have been worn by every It Girl and makeup-loving celebrity around.
We can only imagine that the same rigorous standards have been applied to the new Lip Paint, which has us ultra-excited to get our hands on a matte liquid lip that will be just as comfy to wear as it is gorgeous. Rihanna would never stand for dry, flaky lips.
The Fenty Beauty Lip Paint in Stunna will be launching on November 23rd.
Have you ever seen a more delicious looking red? The packaging has us swooning — it's giving us major old Hollywood glam.
What we're dying to know now is if this means an entire line of liquid lipstick is headed our way. Can you just imagine the wide array of unique and innovative shades Rihanna would bring us?
https://www.instagram.com/p/BbWWBZfjN_h
We have a feeling that Lip Paints will roll out in a similar fashion to the glosses. Stunna will most likely make its debut solo, with additional shades making their arrival as part of a larger collection down the line. Possibly Valentine's Day?
We are just as smitten as Rihanna is with Fenty Beauty's Lip Paint in Stunna and can't wait to add it to our repertoire.
https://www.instagram.com/p/BbXkM-qFfRj
We can only hope to rock it half as well as Riri herself. How incredible does that look on her next-level gorgeous lips?
Be ready come November 23rd, because Fenty Beauty fans do not play.