Rihanna's makeup line Fenty Beauty is set to outsell both KKW Beauty and Kylie Cosmetics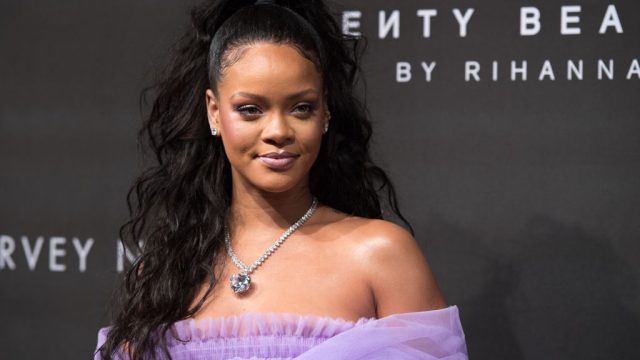 The "Needed Me" singer has proved that, well, we need her. Rihanna's makeup line, Fenty Beauty, came out in September of 2017. And the beauty-obsessed praised her for not only creating inclusive foundation shades but also making a high-quality product. While it probably doesn't surprise you that everything Rihanna touches turns to galaxy-inspired sparkly pink, the singer's beauty brand has now reached a new milestone.
The latest? Fenty Beauty is on track to outsell both Kim Kardashian's KKW Beauty and Kylie Jenner's Kylie Cosmetics. So what does that mean, exactly? Well, many makeup lovers have fallen for all three celebrity beauty brands. But it looks like they're falling hardest for Fenty Beauty. Which happens to have a high dollar reward for the Anti singer.
Last August, WWD announced that Kylie Cosmetics was on its way to becoming a billion-dollar company. Now, WWD reports that Fenty Beauty received five times Kylie Cosmetics' sales in just its first month. As the article also states, in Fenty's second month of operation, its sales were 34% higher than Kylie's. It's definitely not a competition or anything. But it does mean that Rihanna has had record-breaking sales, which is something to celebrate!
Rihanna truly deserves a crown for this Fenty Beauty achievement.
RiRi's sales have done basically the impossible. In August, when WWD predicted that Kylie Cosmetics would reach $1 billion in 2022, they also reported that it took Tom Ford a decade to reach $500 million in revenues, while it took Kylie Cosmetics just 18 months to earn $420 million. This means that Fenty Beauty will probably make $1 billion before 2022.
Cue hair flip.
Kim Kardashian's brand KKW Beauty also set a high bar for beauty sales.
After Kardashian announced the release of a line of glosses and highlighters, everyone predicted that it would sell out in hours. That was mostly based on the fact that Kardashian reportedly made $10 million in just one day with her KKW perfume line.
The fact that Rihanna is set to outsell both Kardashian and Jenner means that RiRi's beauty line is truly banking it.
All of that work sure paid off.
It's not the biggest surprise, though, considering Fenty Beauty's popularity.
Fans have gone crazy for the brand. Its 40 shades of foundation mean that everyone can wear it. And feel like "a life-size Academy Award," to quote our favorite Fenty Beauty foundation review.
Keep being a boss, RiRi. We have a feeling that you will.